– AZERBAIJAN'S EUROVISION PLOT FOILED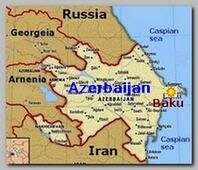 Azerbaijan said, on Wednesday 05/30/2012, its agents foiled plots by Islamic rebels to kill foreigners at the Eurovision 2012 song contest in Baku and assassinate President Ilhan Aliyev.
.
Azeri law-enforcement officials killed two members of an armed group, including its leader, and arrested 40 more, the National Security Ministry said in an e-mailed statement. The rebels have links to insurgents in the Dagestan region of neighboring Russia, according to the ministry.
The group planned to detonate explosives at Crystal Hall in Baku during this month's Eurovision contest, the world's most-watched singing competition, the ministry said. It also plotted to kill Aliyev during his trip to the northwest region of the country last month. Weapons seized included 13 assault rifles, one machine gun, 12 handguns, three rifles, 3,400 rounds of bullets, 62 hand grenades, and several kilograms of explosives.
At least one suspected plotter, 37-year-old Azerbaijani citizen Vugar Padarov, and a security agent were killed during raids to shut down the terrorist group, the statement said. Vugar Padarov was identified in an April security statement as the leader of a group that had received religious training in Syria. Some of its members had weapons training with the Jihad-e-Islami group in Pakistan and took part in fighting NATO-led troops in Afghanistan, the National Security Ministry said.
Azerbaijan, a mostly Shiite Muslim nation of 9 million, borders Russia's North Caucasus region, where the government has been battling with Islamic rebels for two decades. The Caspian Sea nation is the third-largest oil producer in the former Soviet Union , after Russia and Kazakhstan.
Azerbaijan has in recent months reported being the target of terrorist activities planned by groups with ties to Al-Qaida, on one hand and/or Iran on the other hand, and this appears to be most extravagant alleged plot revealed to date.
Azerbaijan has nurtured close relations with the USA and Israel and played an active role in Western-led counter-terrorist programs. That policy has placed a strain on its ties with Iran, which hosts a sizable ethnic Azeri community.
The ministry in February 2012 said it had uncovered a terrorist group with ties to Iran's Revolutionary Guards Corps, or Sepah, and Lebanon's Hizbullah (see – Azer – 02.21.12 ).
* Related topics ;  
******************************
Read more ;