– 2 ARRESTED IN DENMARK OVER TERROR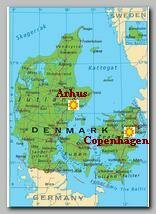 Domestic intelligence services, on Monday 05/28/2012 evening, have picked up two Danish-Somali brothers suspected of plotting a terrorist attack in Denmark.
The two brothers, who are believed to have connections to the Somali terrorist group al-Shabab, were arrested on Monday evening and are due to appear in court today in Aarhus for preliminary questioning (see also – DENMARK 02.12.08). One of the brothers was arrested in Aarhus while the other was arrested at Copenhagen Airport. Authorities have ransacked two addresses in connection with the arrests.
Domestic intelligence agency PET suspect the two brothers, aged 18 and 23, of planning a terror attack in Denmark after hearing them discuss potential targets, methods of attack and use of weaponry. Both brothers are Danish citizens of Somali heritage and have lived in the Aarhus area for about 16 years. One of the brothers is suspected to have received instruction at an al-Shabab training base in Somalia, which is a new phenomenon for a terror arrest in Denmark, according to Hans Jørgen Bonnichsen, the former operative head of PET.
"It makes a difference whether or not they have been trained or are self-active," Bonnichsen told Politiken newspaper. "It is the first time in Denmark that an arrested individual has been trained, and the odds of success increases greatly the moment that one is operationally capable."
The brothers are being charged with breaking Denmark's terror law, which could give them life in prison. They were also charged in accordance to paragraph 114d, point 3 of the penal code, which involves receiving training to commit terror actions. That law that was adopted in 2006 and has never been used before now.
PET and the police in east-Jutland continue their co-operative efforts to investigate the case, while the two brothers are expected to be remanded after the preliminary questioning.
While PET believe that the arrests have averted a definite terror act, they wrote on their website that the terror threat level in Denmark will remain unchanged. "It is the belief of PET that a concrete terror action has been prevented with these arrests," PET wrote on its website. "And the arrests do not change the assessment of the terror threat level in Denmark, which is still viewed as being serious."
Meanwhile, the umbrella organisation for 13 Somali associations, AarhuSomali, was shocked about the terror plans and have vowed to help the authorities any way they can. "I am concerned, shocked and sad about the situation concerning two young Somali brothers arrested for terror," AarhuSomali spokesman Abdirahman M. Lidle told Ekstra Bladet tabloid. "We want the case to be solved and will help any way we can."
Despite several enquiries in the Somali community, no information has surfaced about the two arrested brothers. 
* Related topics;
***********************************