7 ISRAELI CASUALTIES IN AN EXPLOSION IN BURGAS, BULGARIA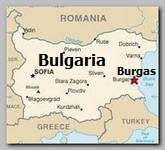 "An explosion occurred in a passenger's bus with Israeli citizens at the Burgas Airport," Mayo of Burgas
Dimitri Nikoliv
announced for Radio FOCUS on Wednesday 07/18/2012 at about 17:00 local time. According to unofficial data there are casualties. The resort town of Burgas is very popular among Israeli vacationers (see – Bangkok's Hezballah Plot).
According to initial reports at least 7 people were killed and over 20 others were injured, out of 47 passengers in the bus. One of the casualties is a local Bulgarian bus driver.
Bulgarian media reported that the explosion took place while the bus was still in the terminal of Sarafovo Airport. The local Bulgarian police said the bomb was placed with the luggage of the bus.
Following the attack, the Shin.Bet (Israeli internal security service) has suspended all flights bound for Bulgaria, Croatia, Serbia, Greece, South Africa, Thailand, Turkey and Azerbaijan.
Lebanese Hizbullah, in an official announcement through their TV channel, denied any involvement in the attack although the organisation committed itself to revenge Mughniyah's Death in Damascus, Syria, on 02/18/2008. 
* Sofia News Agency, on Thursday 07/19/2012 morning, quoted Bulgarian PM
Boyko Borisov
as saying terror attack targeting Israeli tourists which killed at least seven likely work of suicide bomber; FBI, CIA and Israeli authorities aiding Bulgarians in the investigation. The suspected bomber was carrying an USA passport believed to be fake, according to the report.
Initial reports suggested that the explosion was caused by a bomb placed in the luggage compartment of the bus. However, an investigation carried out by Bulgarian authorities in conjunction with the FBI,
CIA
and Israeli authorities now points to a suicide bomber described as a Caucasian man with long hair and sports attire, according to the report.
The man was filmed walking around the airport for an hour prior to the attack by security cameras on the premises, according to the report. His body sustained the most damage in the blast, leading investigators to believe that he set off a bomb located on his person when he boarded the bus. An FBI check of the document's found on the man's body, including a passport identifying him as a Michigan resident, determined that they were counterfeit, according to the report.
According to updated reports 7 people were killed in the blast, 5 of them Israelis, and 35 others injured. One of the casualties is the local Bulgarian driver and the suspected suicide bomber. Al least three of the wounded are in critical condition.
*

SEE – BURGAS BOMBING CONFUSING REPORTS
* Related topics ;
07/2012 -AN ARAB TERROR SUSPECT ARRESTED IN CYPRUS
06/2012 -2 IRANIANS ARRESTED IN KENYA OVER TERROR
03/2012 -IRANIAN PLOT THWARTED IN AZERBAIJAN
*******************************
BANGKOKMAIL