BAHRAINI ABDULRAHMAN AL-SHARQI DESIGNATED "TERRORIST"
BAHRAINI ABDULRAHMAN AL-SHARQI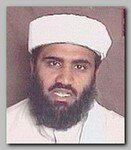 The USA said on Tuesday 07/17/2012, it has designated a Bahraini citizen
Ahmed Abdulrahman Sihab Ahmed Sihab
– alleged to be an Al Qaeda operative and wanted in his own country since 2007 – as a "terrorist".
Ahmed Abdulrahman Sihab Ahmed Sihab, also known as
Abdulrahman Al Sharqi,
had already been "publicly charged with planning terrorist attacks as a member of Al Qaeda," according to a statement from the US State Department.
In naming Ahmed Sihab a "specially designated global terrorist" the order "blocks all of Sihab's property interests subject to US jurisdiction and prohibits US people from engaging in transactions with Sihab".
Bahrain has been calling for Ahmed Sihab's extradition since January 2007 for "participating in terrorist activities", the State Department noted. Ahmed Sihab has trained members of al-Qa'ida in terrorist tactics, techniques, and procedures. Since January 2007. He is also wanted by the Bahraini authorities and his current whereabouts is yet unknown.
The global police agency Interpol has also issued a "Red Notice" against him, asking authorities in its member states to put him under provisional arrest pending extradition, the statement said. The decision "demonstrates the continued resolve of the US in eliminating Al Qaeda's ability to execute attacks," the State Department said.
* Related topics ;











04/2009 -2 TERROR SUSPECTS ARRESTED IN BAHRAIN
*******************************