– NUMAN HAIDER SHOT DEAD BY AUSTRALIAN POLICE
Police, on Tuesday 09/23/2014, shot dead a 18-year-old "known terror suspect", has been named in police reports as Numan  Haider who stabbed two officers, a day after the I.S.I.S group called for Muslims to indiscriminately kill Australians. 
 Numan  Haider is reportedly associated with the al-Furqan group, was killed on Tuesday evening after arriving at a police station on the outskirts of Melbourne to attend a "routine" interview.  Al-Furqan operates an Islamic information centre in Springvale and was the focus of counter terrorism raids in 2012. 
He greeted two members of the joint counter-terrorism team with a handshake before pulling out a knife and repeatedly stabbing both men. One officer fired a single shot that killed him, police said.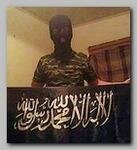 The acting federal police commissioner, Andrew Colvin, later on Wednesday 09/24/2014, said the attacker had his passport cancelled about a week ago on national security grounds. Bruce Giles, a Victoria police commander, said reports that the man had earlier been waving the ISiS flag were being investigated. 
 The two stabbed officers were in serious conditions, hospital staff said. It was not immediately clear whether the violence was related to a recent call from I.S.I.S to its supporters to kill in their home countries. Authorities in Australia are concerned about the number of its citizens fighting in the Middle East.
A suicide bomber who killed three people in Baghdad in 07/2014 was identified as Australian, as were two men recently photographed holding the severed heads of Syrian soldiers.
A local Afghani Muslim leader Abdul Akbar told The Australian that Numan  Haider had attended a local secondary college and graduated last year but he was unaware of further details about him. 
Numan  Haider's Facebook page reveals photographs of himself holding an Islamic flag with abusive posts directed at the AFP and ASIO, the Australian Security Service. 
"Lets not put the focus on other things. The main message I'm sending with these statuses and photos is to the dogs AFP and ASIO who are declaring war on Islam and Muslims," he wrote.
 Victoria Police has confirmed they first came into contact with Mr Haider three months ago.
 * Related topics ; 
*************************
Read more : 
THEAUSTRALIAN