– KHALED SHARROUF

Khaled  Sharrouf
was born in 1981 in Australia to a family from Lebanese descent.  When he was still young the father left the family and returned to Lebanon.  Khaled  Sharrouf is married and a father of four. He was described as a troubled young man suffering physical and emotional problems. According to a psychiatrist report he is "extremely irate and agitated".
 Khaled  Sharrouf was arrested already in 10/2005 after trying to steal six digital timers and about 130 batteries from a hardware store (see – Sydney Cell). Khaled  Sharrouf's family was close to Willie Brigitte and the Australian woman he married, whom Khaled  Sharrouf helped to shelter in summer 2003.
 Khaled  Sharrouf's trial was opened, eventually, on 10/27/2008. He pleaded guilty to acts in preparation for a terrorist act, sentenced to time already served and was released in mid 2009 (see – Conviction 10.16.09).
In 12/2013 Khaled Sharrouf, along with Mohammed El-Omar , went to Syria to fight with I.S.I.S (see – Western-Jihadists), a configuration of the Islamic State of Iraq – now the Islamic State of Iraq and the Levant, known as ISiS, led by Abu Bakr al-Baghdadi (see – Statement – 07.21.12).  He flew abroad from Sydney using his brother's passport. His wife Tara Nettleton followed soon after with the five children. It is understood to have flown the children to Malaysia with her mother Karen on return tickets to avoid suspicion.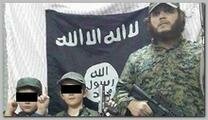 In early 08/2014 a photograph of Khaled  Sharrouf's son, age 7, holding the severed head of a slain Syrian soldier, in the Syrian city of Raqqa, was distributed on the web. The shocking photograph — posted on Twitter by a proud father with the words "Thats my boy!"
Arrest warrants have been issued for Khaled Sharrouf and Mohammed el-Omar for posting images on social media, in 08/2014,  that appear to show them posing with decapitated heads and standing over bloodied bodies. 
* Related topics:  
12/2010 –

3 AUSTRALIANS CONVICTED FOR TERROR

04/2011 –

IYAD ABU ARJA ARRESTED IN ISRAEL

09/2011 – TERROR THREAT AGAINST AUSTRALIAN AIRPORTS    
Read more ;