– HERVE GOURDEL BEHEADED IN ALGERIA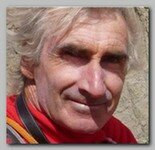 I.S.I.S-linked militant group in Algeria, Jund al-Khilafa, have beheaded, on 09/24/2014, a French hostage, Herve Gourdel, captured at the weekend – having earlier made threats to kill him if France did not stop bombing targets in Iraq (see – U.S 2014 Strategy ).
Herve Gourdel, 55, was captured by the Islamist group Jund al-Khilafa while hiking in the Djurdjura National Park on Sunday 09/21/2014 – just one day after he arrived in Algeria for a 10-day walking holiday.
A video featuring Herve Gourdel was released, on Tuesday 09/23/2014, in which the militants threatened to kill the professional mountaineering guide within hours unless France stopped bombing ISiS targets in Iraq by the end of the day. The sickening four minute 46 second video of Herve Gourdel's murder – titled 'A Message in Blood for the French Government' – was released exactly 30 minutes after Barack Obama gave a speech vowing to destroy I.S.I.S and its affiliates to the UN General Assembly. 
In his speech President Obama urged the world to come together to tackle the threat posed by ISiS and 'dismantle this network of death'. The address ended at 10.38am New York time, with the existence of Herve Gourdel's murder video revealed just 30 minutes later, at 11.09am.
* Related topics:
–
07/2013-THE BODY OF HOSTAGE PHILIPPE VERDON FOUND IN MALI
05/2013-FRENCH SOLDIER STABBED IN PARIS METRO
02/2013-14 FOREIGNERS ABDUCTED BY ISLAMISTS IN THE SUB SAHARA
2013 – MALI CANPAIGN    
***********************
Read more: 
LEAKSOURCE-VIDEO