– ARAB EDUCATION 'FAILLING BEHIND'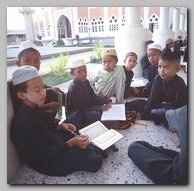 According to the World Bank report published on 02/05/2008 the education system of most of the Arab world, which is also a large part of the Muslim world, is failing to cope with the increasing economical and technological changes in the world.
The report claims that there is no increase in literacy and school enrolment as witnessed in Asia and Latin America. The gender gap, although was reduced, the region had not witnessed the positive changes seen in Asia and Latin America.
That report is consistent with other reports of UN and other international institutions that suggest that the Arab World in the Middle East and North Africa is facing growing difficulties in facing the changes the World is going through.
The report puts the finger on the main reason to the phenomena of Global Jihad – the growing frustration of Muslim youngsters, who are the absolute majority in the Arab world, when facing the enormous changes of globalization, free stream of ideas and growing role of women in social, economical and political affairs.  The claim that the Muslim world is 'failing behind' because of the rich Western Democracies who exploit the resources of the Muslim world has an appeal and can be supported by evidence,  although other countries, like the 'Asian Tigers', did not addict themselves to that excuse  and found ways to integrate successfully  in the modern world.
The World Bank report is not only the problem of the Arab countries. The report should cause worries to all the world because it almost ensures that the phenomena of Global Jihad will continue in the next generations to come – no matter how successful the military war on terror will be.
The war on terror should be fought, in the long run, in the schoolyards of Pakistan and the Arab world and only there victory is possible.
* Related topics –  
–
01/2008 -IMPOSING  DEMOCRACY  
*****************
 Read more ;