– AL-ZAWAHIRI POSSIBLY WOUNDED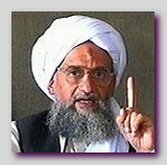 On 07/29/2008, two days after the missile attack that killed Midhat Mursi in South Waziristan, Pakistan, the local Taliban warlord Baitullah Mehsud, allegedly distributed a letter with his own signature asking for medical help to Ayman Al Zawahiri – the acting leader of Al Qaeda.
According to CBS News exclusive report by chief foreign affairs correspondent Lara Logan, Who obtains a copy of a intercepted letter from sources in Pakistan – the letter urgently requests a doctor to treat Ayman Al Zawahiri. The letter refers to Sheikh Dr. Ayman al-Zawahiri by name – and says that he is in "severe pain" and his "injuries are infected."
Unlike previous cases when Ayman Al Zawahiri was claimed dead or injured, Al Qaeda did not yet deny the report.
** Note – It is hard to believe that Baitullah Mehsud, a well known paranoid, will distribute such a letter with his own signature referring to Ayman Al Zawahiri in his full name without using any code name. 
* Related topics –
–
06/2008 -AL-ZAWAHIRI CRITICIZED EGYPT  
04/2008 – ZAWAHIRI'S NEW TAPE CRITICIZES SHIAA 
********************
Read more ;  
–