– UZBEKISTAN'S 03/2004 ATTACKS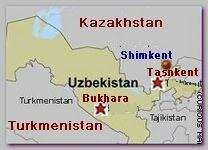 On Sunday 03/28/2004 evening a bomb exploded in Bukhara, the second largest city in Uzbekistan. The blast killed 10 people, including a 3 years old boy, at a house being used by an extremist and was probably a "work accident". The event was, eventually, an opening to a larger scale terror campaign in Uzbekistan.
The next day, Monday 03/29/2004, a female suicide bomber, Dilnoza Khalmuradova, 19, committed the first ever suicide attack in Uzbekistan, when she blew herself up in a local crowded Chorsu bazaar in Tashkent near a police rally ground. A second female suicide bomber, 26-year old Zahro Turaeva, exploded near by at a bus stop. !9 people, including 6 police officers, were killed in the double blasts.
In the evening, on Thursday 03/30/2004, 16 terrorist suspects and 3 police officers were killed in a siege in an apartment building in Yalangach neighborhood of the capital Tashkent when the police launched a massive operation to hunt down the terrorists related to the attacks.
Other 3 police officers were killed nearby after they stopped a small car and two alleged terrorists jumped out and detonated explosive-laden belts, killing themselves as well.
The next day, Wednesday 03/31/2004 evening, another bomb went off in the Sabir-Rakhimovski district of Tashkent killing 1 person.
All together the wave of violence claimed the life of 47 people: 9 policemen, 33 terrorists and the rest innocent civilians. Over 30 suspect terrorists were arrested.
The violence marks the most serious unrest since Uzbekistan allowed hundreds of USA troops use a base near the border with Afghanistan after The 9/11 and operation Absolute Justice.
Initially the Uzbek Authorities blamed the Islamic party "Hizb-ut-Tahrir al-Islami" (The Islamic Liberation Party) led by Ata abu-Rashta, which is operating in Uzbekistan since the 60s' and denounced violence as a legitimate means, for being behind the multiple Tashkent terror attacks. The Islamic party denied any involvement in the attack and said the Uzbeck authorities used the opportunity to incite against the "Hizb-ut-Tahrir".
Eventually an ephemeral unknown militant organization "Uzbek Islamic Jihad" took responsibility on the attacks. Security officials claimed that "Uzbek Islamic Jihad" is, in fact, a cover name for the Islamic Jihad Union -IJU, a split of the Islamic Movement of UZBEKISTAN -IMU.
Some of the arrested suspects vent through training and indoctrination in the Kazakh town of Shimkent, 120 km to the north of Tashkent, Uzbekistan's capital. Shimkent is one of the places outside Uzbekistan were Islamic activists found refuge from the persecutions of the Uzbek police and security services.
On 08/24/2004 a military court in Tashkent sentenced 15 suspects, including four women, affiliated to Islamic militancy, up to 18 years in jail for planning and executing the March 2004 terror attacks in Tashkent.
**
On 07/30/2004, just four months later, the same terror infrastructure committed
the July 2004 Attacks .
* Related topics –
–
*********0**********
Read more ;
CNN EDITION
ASIA TIMES