– SIPADAN ABDUCTION
–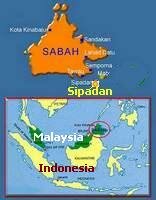 Sipadan is a tourist resort, favored by Westerners, in Malaysia, on the Northern edge of the island of Kalimantan (Borneo), which is divided between Indonesia and Malaysia.
On 04/23/2000 an Abu Sayyaf group of armed men, led by Galib Andang, code named Commander Robot, rom the Southern Philippines, took over the tourist camp of Sipadan and hijacked 21 tourists, including two French nationals, two Germans, two Finns, two South Africans, a Franco-Lebanese and a Filipino.
Abu Sayyaf issued several demands: recognition of a separate Islamic state in the Southern Philippines; an international inquiry of alleged abuses of Pilipino army against Muslims in the south and $2.6 millions ransom.
The tourists were taken by fast boats to the Southern Philippines to a remote island near Basilan, the South Western province of Mindanao. Three French television journalists were kidnapped on 07/09/2000 while on their way to interview the captives. Abu Sayyaf then raised the demand for ransom to $1 million for each of the Western hostages abducted from Sipadan and $ 2.27 million for each of the three French journalists.
Three other Malaysians were kidnapped, on 09/30/2000, by Abu Sayyaf, in the beach resort of Sabah, Southern Philippines, and added to the group.
An Abu Sayyaf member, Ruland Ullah, who became later a state witness in the case, disguised as a diving instructor in Sipadan, trained Abu Sayyaf activists in scuba diving before the raid. The kidnapping, according to USA intelligence, was masterminded by Radulan Sahiron.
The hostages were, eventually, released in late 2000, according to intelligence sources, after Libyan ruler Muammar Khadafy paid $15 millions ransom. There are evidences that the money was used to by more weapons.
The Sipadan Abduction tightened the military cooperation between USA and the Philipino army. 
* Umbra Jumdail, one of the perpetrators, was killed in an air strike, on 02/02/2012, alongside Muawiyah Anjala, in the Southern Filipino island of Jolo.
* Harun Jaljalis, another perpetrators, was arrested in Basilan on 02/02/2012.
* Realated topics – 
–
12/2007 -MOBIN ABDURAJAK KILLED IN TAWI-TAWI 
02/2005 -VALENTINE'S DAY SQUAD 
************0*************
Read more ; 
WANADOO