– MANILA JAIL REVOLT
–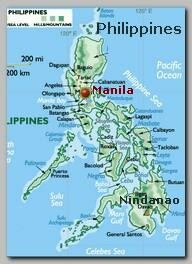 The most secure prison for senior terrorists and gang leaders is located in a four floors building in Camp Bagong Diwa in Manila.
Monitoring phone calls from and to the high security prisons the Filipino authorities understood that Alhamser Manatad Limbong, or "Kosovo,", who is suspected of beheading the American Guellermo Sobero, after the Palawan Hijacking, ordered, in a phone call to Abu-Sulaiman, to prepare 9 safe houses in Manila region and the prison staff was put on alert.
In 03/2005 the Bagong Diwa detention center inhabited about 450 inmates, about 130 of them were senior Abu Sayyaf members and 10 others were from Moro Islamic Liberation Front – MILF. The others were dangerous offenders.  Abu Sayyaf inmates managed to smuggle five handguns and two grenades they used later to engage the assault team in a gunfight inside the jail compound. 
On 03/14/2005 noon, a group of 10 Abu Sayyaf members managed to overcome a jail warden and four of his subordinates and took their weapons, in what seemed to be a breakthrough attempt, which failed.  Two of the jail staff and three inmates were killed when the uprising began. Since jail authority was prepared to a serious event in the jail they immediately sealed off the jail and prevented any attempt to escape the compound. Limbong's group decided to hole themselves up in the prison building. Limbong's group joined Galib Andang, Nadmi Saabdula and other Abu Sayyaf members and occupied the building's second floor. 
In the evening two days later, on 03/16/2005, the jail authority, reinforced with 300 Filipino riot police, stormed the besieged prisoners, using tear gas and stunt grenades, and probably also live ammunition, since 22 prisoners inmates were killed in the take over. One jail staff was killed too. 
Among the 22 prisoners killed in the take over there were; Alhamser Manatad Limbong,  Galib Andang, code named Commander Robot, accused of leading the Sipadan Hijacking on the Malaysian coast on the Northern island of Kalimantan (Borneo); Nadmi Saabdula alias Commander Global; Habie Daei alias Ka Lando, the Abu Sayyaf spokesman during the jail revolt, and 19 others.  
* Related topics –  
–
*********** *************
Read more ;