– SHIRWA AHMED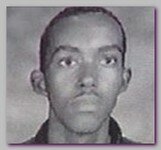 Shirwa  Ahmed was born in 1981 in Somalia. He came to USA, in 1996 and graduated from Roosevelt High School in Minneapolis. Shirwa  Ahmed was a naturalized U.S. citizen.
In late 2008 Shirwa  Ahmed, who was encouraged by Cabdulaahi Ahmed Faarax, left his University studies in Minneapolis, Minnesota, and went to Somalia, probably through Kenya, in order to go through military training and to join Islamist troops, who fought the Ethiopian army in Somalia. He was one of a group of about 20 young Somalis who left their homes in USA in late 2008 and it is assumed they went to fight in Somalia. 
Shirwa  Ahmed was one of the five men suspected to be suicide bombers, who killed himself and 29 others, on 10/28/2008, in Somalia. The event aroused concern in USA about homegrown radicalization of young Muslims (see – Salah Osman Ahmed). The FBI and Homeland Security were, therefore, investigating whether Shirwa  Ahmed had developed a terrorist recruiting network in Minneapolis area (see – Minneapolis Network). 
The FBI described, in 02/2009, Shirwa  Ahmed as the first USA citizen to carry out a suicide bombing. FBI Director Mueller said he was "radicalized in his hometown in Minnesota." 
Shirwa  Ahmed
was buried, on Wednesday 12/03/2008, at a Burnsville Cemetery in a traditional Muslim ceremony after he was identified by DNA test. 
* Related topics –
11/2008 -ARRESTED FOR LIYING ABOUT DANIEL MALDONADO 

05/2008 -NATURE OF ISLAMIC TERROR CHANGES 

PROFILE -OMAR HAMMAMI – MANSOUR AL-AMRIKI

 
*************************
 Read more ;