– GWADAR EXPLOSION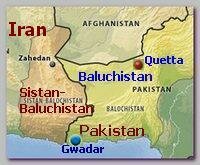 Three Chinese engineers were killed, on 05/03/2004, near the port town of Gwadar in Baluchistan, South West Pakistan. The attack was carried out with a white minivan car bomb loaded with explosives, which was parking near the entrance to Gwadar Harbor where the Chinese engineers were working and detonated through remote control.  
The Chinese authorities suspected that the bombing was directed by anti-Beijing Uighur East Turkistan Islamic Party – [ETIP] who have taken shelter in the tribal areas of Pakistan bordering Afghanistan.
In view of the Chinese interest in the Gwadar Port as a gateway for the external trade of the Xinjiang province and as a regional base for the Chinese Navy, the Uighur [ETIP] activists, in Beijing's perception, would have a strong motive to disrupt its construction.
* On 07/31/2004 there was a second attempt on Chinese engineers working in Gawdar Harbor but the explosion caused no casualties or substantial damage to anyone.
* On 08/29/2004, 2 Chinese telecommunication engineers were kidnapped in Baluchistan by Jundallah and with some assistance from the Taliban. The driver of the Chinese engineers was released, on 10/15/2004. One of the engineers managed to escape, on 10/17/2004, and was found a day later by the Pakistani army. The second engineer was executed by his captors few months later, in early 2005, while in captivity by Baitullah Mehsud's men. Jundallah claimed the two engineers were, actually, Chinese intelligence agents operating under the cover of telecommunication engineers. Their mission was to spy after ETIP activists in Baluchistan. 
* Related topics – 
–
06/2010 -PAKISTAN EXTRADITED TERROR LEADER TO IRAN 
PAKISTAN'S MILITANT GROUPS
**********************
Read more ;  
ATIMES.COM