– CHINA'S WANTED TERRORISTS LIST RELEASED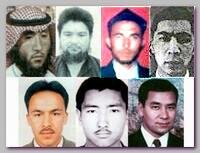 Chinese police called, on Tuesday 10/21/2008, for the arrest and extradition to China of the alleged leader of an Islamic terrorist group and seven core members accused of plotting attacks against the Beijing Olympics.
A Public Security Ministry spokesman said the eight men, all Chinese citizens, were believed to have financed, incited and organized attacks during and around the August 2008 Beijing Olympic games as part of an ongoing insurgency against Chinese rule in the traditionally Muslim west (see – ETIP 2008).
Wu Heping told reporters at a news briefing that the men were members of the East Turkestan Islamic Movement [ETIP], a murky collection of extremists believed to be based across the border in lawless areas of Pakistan and Afghanistan.
The eight "seriously threatened the security of the Beijing Olympic Games and China's social stability, while at the same time composing a threat to the security and stability of relevant countries and the region," Wu Heping said.
* From top left Memetiming Memeti, Emeti Yakuf, Memetituersun Yiming, Xiamisidingaihemaiti Abudumijiti and from bottom left Aikemilai Wumaierjiang, Yakuf Memeti, and Tuersun Toheti. Photo of the eighth accused Memetituersun Abuduhalike was not made available.
* Related topics –  
–
04/2008 -CHINA ARRESTED 35 TERROR SUSPECTS  
*********************
Read more ;