– DR. AYMAN BATARFI TO BE RELEASED FROM GITMO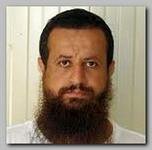 Dr. Ayman Saeed Abdullah Batarfi, 38, from Yemen, was captured in Afghanistan during operation Absolute Justice during the battle in Tora Bora in late 2001. A year later, in late 2002, Dr. Ayman Saeed Batarfi was transferred to Guantanamo on suspicion of assisting Al Qaeda.
Dr. Ayman Saeed Batarfi is an orthopedic surgeon who graduated from medical school in Pakistan and pursued postdoctoral studies there.
Dr. Ayman Saeed Batarfi arrived to Afghanistan through Al-Wafa, an Islamic Humanitarian organization with its headquarter in Saudi Arabia. USA claimed Al-Wafa has connection to Osama Bin Laden and Al Qaeda. 
On 11/02/2004 Dr. Ayman Saeed Batarfi's Combatant Status was reviewed by a special tribunal in Guantanamo. The conclusion was that Dr. Batarf was, indeed affiliated to Al Qaeda.  
Dr. Ayman Saeed Batarfi remained one of the last 250 inmates in Guantanamo. On Monday 03/30/2009 USA justice department spokesman Dean Boyd said Washington would work to transfer Mr Batarfi "to an appropriate destination country", the Associated Press news agency reported.
The transfer would be made "in a manner that is consistent with the national security and foreign policy interests of the United States and the interests of justice", the spokesman added.
His lawyers say he was on a humanitarian mission in Afghanistan in 2001.
* Related topics –  
01/2009 -GUANTANAMO – THE BEGINNING OF THE END

06/2008 -U.S RULED GUANTANAMO DETAINEES CAN APEAL

01/2009 – GITMO INMATES APPEARED ON JIHADI VIDEO
************-N-*************
Read more ;