– DANIEL BOYD'S RALEIGH PLOT UNCOVERED IN US
–
 * Daniel Patrick Boyd, his two sons and four other North Carolina men were indicted, on Monday 07/27/2009, of military-style training at home and plotting "violent Jihad" through a series of terror attacks in Israel.
Officials said the group was led by the USA citizen Daniel Patrick Boyd, born in 1970, also known in his Islamic name 'Saifullah' (Sword of God), who lived in an unassuming lakeside home in a rural area south of Raleigh, where he and his family walked their dog and operated a drywall business.
Two decades ago, 1989, Daniel Boyd, trained in terrorist camps in Pakistan and Afghanistan and fought there in the very last stage of the war against the Russians, who left Afghanistan in 1989.  Daniel Boyd stayed in the border region of Afghanistan and Pakistan up to 1991.
In 1991, Daniel Boyd and his brother were convicted of bank robbery in Pakistan — accused of carrying identification showing they belonged to the radical Afghan guerrilla group, Hezb-e-Islami, or Party of Islam. Each was sentenced to have a foot and a hand cut off for the robbery, but the decision was later overturned. He returned to USA in 1992.
The indictment claims some of the defendants traveled to Israel in 2007 with the intent of waging "violent Jihad" and returned home without success.
Daniel Boyd stopped attending worship services at a moderate mosque in the Raleigh area and instead began meeting for Friday prayers in his home, according to the prosecution. "These people had broken away because their local mosque did not follow their vision of being a good Muslim," Attorney George E.B. Holding said.
Their wives told The Associated Press in an interview at the time that the couples had USA roots but the United States was a country of "kafirs" — Arabic for heathens.
Two of the suspects are Daniel Boyd's sons: Zakariya Boyd, 20 and Dylan Boyd, 22. The others are Anes Subasic, 33; Mohammad Omar Aly Hassan, 22; and Ziyad Yaghi, 21, who went to Jordan, already in 10/2006 to engage in Jihad. 
Hysen Sherifi, 24, a native of Kosovo and a USA legal permanent was also charged in the case. He was the only person arrested who was not a USA citizen.
According to the investigation, Hysen Sherifi was in Kosovo in 2008 and, allegedly, formed a relationship with Bajram Asllani, a Kosovo man from Albanian descent, who had provided him with "videos related to violent jihad… so they could be used to recruit others for violent jihad." Bajram Asllani himself wa arrested, eventually, in Prishtina, Kosovo, on Thursday 06/17/2010.  
Mohammad Hassan's father declined to comment Monday night while others did not have listed numbers or did not return calls.
It's unclear how authorities learned of the activities, although court documents indicate that prosecutors will introduce evidence gathered under the Foreign Intelligence Surveillance Act.
Daniel Boyd was also accused of trying to raise money last year to fund others' travel overseas to fight. The defendant Hysen Sherifi, went to Kosovo to engage in violent Jihad, according to the indictment, but it's unclear if he did any actual fighting.
.
* A 20-year-old USA citizen who traveled to Pakistan in 2008 "to engage in violent jihad" has been named, on Monday 08/03/2009, as the eighth suspect in a North Carolina terrorism case, according to court documents. Jude K. Mohammad was charged, in absentia, with conspiracy to provide material support to terrorists and conspiracy to murder, kidnap, maim and injure persons in a foreign country.
–
On Wednesday 02/09/2011 Daniel Boyd pleaded guilty to charges of conspiring to provide support to terrorists and conspiring to murder, kidnap and injure people. Prosecutors agreed to dismiss several other counts against him were dismissed. The other defendants, including his sons, are due to be tried in 09/2011. They have denied the allegations.
–
* On Wednesday 06/08/2011 Zakariya Boyd pleaded to a single count of conspiracy to provide material support to terrorists, according to the U.S. attorney's office. Boyd faces up to 15 years in prison.
Boyd's father, Daniel Boyd, pleaded guilty in February. Daniel Boyd was described by prosecutors as the ringleader of a conspiracy aimed at supporting and participating in violent actions abroad on behalf of a radical jihadist political agenda. The indictment alleged the men raised money to buy assault weapons and conduct training exercises, and that they arranged overseas travel and contacts to help others carry out violent acts.

Daniel Patrick Boyd was sentenced, on Friday 08/24/2012, to 18 years in jail.  



–
 *
A jury, on Friday 09/23/2011, found Anes Subasic guilty on two counts of immigration violations. Prosecutors say Anes Subasic lied about having a criminal record when he applied in the 1990s to become a U.S citizen. He had at least 10 prior criminal charges in his native Bosnia.

Anes Subasic was sentenced to 30 years imprisonment.
–
* Zak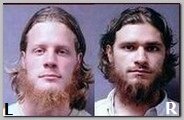 ariya Boyd (L) was sentenced, on Tuesday 12/20/2011, to 9 years imprisonment while his brother, Dylan Boyd (R), received 8 years. Each had pleaded guilty to conspiracy to provide support to terrorists, which carried a maximum of 15 years in prison and $250,000 fine. Both received lesser sentences after cooperating with prosecutors, including credit for the jail time already served since their arrests in July 2009.
"I apologize to the nation for failing to preserve the national security," Dylan Boyd said as he read from prepared notes before being sentenced.  Zakariya Boyd, sounding like the Eagle Scout he is, told U.S. District Judge Louise Flanagan the shame he endures for failing to break away from the group's terror plots would motivate him to "reclaim the mantle of truth and justice."
.
*
Hysen Sherifi was sentenced, on Friday 01/13/2012, to 45 years in prison; Ziyad Yaghi got nearly 32 years; and Mohammad Omar Aly Hassan was sentenced to 15 years. They faced the possibility of life in prison. Each said they would appeal their convictions and claimed innocence.
*
* Shkumbin Sherifi  and Nevine Aly Elsheikh have been charged in U.S, on 01/25/2012, with a plot to have the witnesses against Raleigh convicted terrorist Hysen Sherifi – beheaded (see – Sherifi-Elsheikh ).
 * Related topics –
– 
07/2009 -BRYANT VINAS ACCUSED OF TERROR 
05/2009 -RIVERDALE TERROR PLOT FOILED 
**********N***********
Read more ;