– ABDELKARIM  HAMMAD
–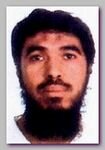 Spain has approved, on 11/05/2005, the extradition to Algeria of two men wanted on terrorism charges, according to the government's website.
The Algerians were identified as Abdelkarim  Hammad, alias "Aldelnassa," and Mohamed Amine Benaboura. The decision was taken at the weekly Cabinet meeting on Friday 11/04/2005, the government said.
Abdelkarim  Hammad was born in Algeria in the mid 60s'. He is an Afghanistan-trained former GIA member.  Abdelkarim  Hammad had been in Europe since the mid-1990s, he had recruited and trained young Arab men for jihad in Afghanistan, Bosnia and Kosovo and formed part of the logistics network for Islamist groups linked to Algeria's GIA
Abdelkarim  Hammad was detained on 12/27/2002 in the northern Spanish region of La Rioja on an international arrest warrant from Algeria, where he is wanted for murder and for terrorist association, the Interior Ministry said in a statement at the time.
Spanish authorities described Abdelkarim  Hammad as "a dangerous terrorist who was trained in the Afghanistan camps controlled by Al Qaeda leader Osama Bin Laden, where he specialized in handling explosives.
. 
* Related topics –
–
PROFILE – SAID ARIF 
.
*****************************
Read more ;
–