– FAILED U.K POLICY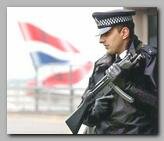 The government's poliView Postcy of trying to stop the radicalization of mainly young Muslims, a central plank of its counter-terrorism strategy, is alienating those it is supposed to be winning over, a committee of MPs said, on Tuesday 03/30/2010. 
"Prevent", which aims to cut support for violent extremism and discourage people from becoming terrorists, was backfiring as many Muslims felt it was being used to spy on them, parliament's Communities and Local Government Committee said. "The misuse of terms such as 'intelligence gathering' amongst Prevent partners has clearly discredited the program and fed distrust," said Phyllis Starkey, the committee's chairman. It seeks to use police, local government, teachers and youth workers to help communities counter the message of Al Qaeda (see also – U.K Islamic Grip ).
.
Prevent is one of the four main strands of the government's policy, along with Pursue, Protect and Prepare, set up to deal with the threat from Al Qaeda and its related groups. Brought in two years after The 9/11. Prevent became particularly significant after the London 7/7 suicide bombings in 2005.
But community workers told Reuters this month that the policy had tainted positive projects and it was instead creating unease among many of the government's 1.8 million Muslims. The National Association of Muslim Police even said it had stigmatized Muslims and worsened relations.
In its report, the Communities Committee called for a new approach, saying it was wrong that a department working for community cohesion should be part of a counter-terrorism agenda. It said there should be an independent investigation into accusations by witnesses giving evidence to the committee who said the strategy was being used by police and spies for intelligence gathering.
The committee accused ministers of trying to "engineer a 'moderate' form of Islam, promoting and funding only those groups which conform to this model". "In our view, a persistent pre-occupation with the theological basis of radicalization is misplaced because the evidence suggests that foreign policy, deprivation and alienation are also important factors," Starkey said.
The government said it was disappointed the report had not taken into account changes made to Prevent in the last year to address criticisms. "All Prevent activities are designed to support all communities, and particularly Muslim communities in resisting those who target their young people," a spokesman for the Department for Communities and Local Government said. "There has been no substantiated evidence that Prevent programs are keeping Muslim communities under surveillance." 
Shadow communities secretary Caroline Spelman said the report had confirmed "our longstanding concern that there are serious failings in the way the government has used taxpayers' money in this important policy area". 
She added: "It's clear that that too much money has been wasted on unfocused and irrelevant projects which have created confusion and increased the risk of alienating the very communities it ought to engage".
.
* Related topics –  
03/2010 -EUROPE  FEARS ISLAMISM 

02/2010 -HUMAN RIGHTS OVERSHADOWS TERROR IN U.K 
**************************
 Read more ;
–