– THE BATTLE FOR KANDAHAR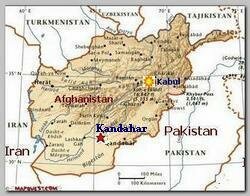 Kandahar is the second largest city in Afghanistan and the biggest city in the Pashtu tribes' belt, which stretches from North-West NWFP in Pakistan to South East Afghanistan, mainly Kandahar and Helmand provinces. In many aspects Kandahar, with about 1.5 million inhabitants, is the capital of the Pashtu tribes and the Taliban although the Taliban headquarter is situated in Quetta, Pakistan (see – TALIBAN'S HAVEN).
The governor of Kandahar is president Hamid Karzai's half brother Ahmad Wali Karzai considered by many as a big drug lord who benefits from the general lawless situation and might be the biggest looser of the coming Kandahar operation should NATO-ISAF succeed in restoring accountability and law and order in Kandahar province (see also – CIA-Payroll).
Kandahar is also the next declared project of the USA army after Moshtarak-Operation, according to Gen. Stanley McChrystal strategy of protecting major population centers. Both sides are, therefore, concentrating their efforts to tackle and undermine the other side (see -McChrystal Report) .      
A prominent Afghan tribal leader Abdul Rahman, who spoke of his fears of assassination by the Taliban, has been killed, on Wednesday 04/28/2010, near the southern city of Kandahar. Abdul Rahman became widely known in Afghanistan after telling President Hamid Karzai that those who spoke out against the Taliban risked being killed. He was among elders who took President Karzai to task at an angry meeting of 1,500 tribesmen in the city at the start of April 2010 (see – Afghan Ballet). The elders made it clear they thought Mr Karzai's government was as much a problem as the militants, who have grown in strength in the region in recent years. The message from the tribesmen was that they are not ready for any major military assault. At least 13 community leaders and government officials have been killed in and around the city of Kandahar in less than two months included the city's deputy major who was shot dead in a mosque earlier in April 2010.
A day earlier, on Tuesday 04/27/2010, militants detonated explosives near the city in an attack targeting a compound providing logistical support to NATO-ISAF forces. At least three people were killed about 2 km from Kandahar Airfield, the second largest NATO base in Afghanistan. Hospital workers said at least 35 others were injured (see also – Kandahar 03.13.10). 
Earlier this week the UN moved foreign staff out of the city and told 200 of its local employees to stay at home because of the deteriorating security situation.
President Hamid Karzai had gone to Kandahar with top USA commander Gen McChrystal to try to win support for the anti-Taliban offensive. The campaign in Kandahar is being led by a major emphasis on politics – unlike the last Mushtarak offensive in neighboring Helmand province which began with a military push.
A 152-page report released, on Wednesday 04/28/2010, by the Pentagon ahead of President Hamid Karzai's upcoming visit to Washington, said only 29 of the 121 Afghan districts considered most strategically important in the war effort – support Karzai's regime.
The US military want to secure the city and put it firmly under Afghan government control. The battle is seen as a potential defining moment in the conflict.
But the Taliban appear determined to stop that happening in their traditional stronghold. The Taliban, in any form, is there to stay forever while the USA troops are scheduled to begin their withdrawal in summer 2011, which in Afghan terms means tomorrow. Therefore any USA achievement can be only temporary. 

 
.
* Related topics –  
–
02/2010 -WHAT IS GOING ON? 
.
******************************
–