– CUNEYIT CIFTCI – THE BAVARIAN TALIBAN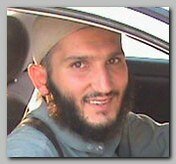 Cuneyit  Ciftci was born, on 07/14/1979, in the Bavarian town of Freising, Germany to a family from Turkish decent. At the age of twelve, in 1991, Cuneyt Ciftci was sent by his father to a state-run religious school in Turkey, where he learned, among other things, to recite the Quran from memory. He also began to use the name "Hafiz". After studying for three years in Turkey, Cuneyt Ciftci returned to Ansbach, where he spent the next period of his life trying to find his place among the Mosque communities there.  
In 1998, Cuneyt Ciftci found employment in the Ansbach warehouse of Bosch, an international technology company. This job provided Cuneyt Ciftci with a dependable income, paid vacation, health insurance and other benefits. In 2000 he was granted an unlimited right of residence in Germany, but his application for German citizenship was repeatedly turned down. In 2001 Cuneyt Ciftci married a woman from Turkish descent with a secular background. 
According to intelligence sources, in late 2004 Cuneyt Ciftci began to frequent the Milli-Gorus Mosque in Ansbach and even to preach there.  
Until 04/2007 Cuneyit  Ciftci lived together with his family in Ansbach where he used to pray in the local Hilal Mosque. The Hilal Mosque belongs to the Turkish Islamic Community of Ansbach, a legally registered society affiliated with the Turkish-Islamic Union of the Institute for Religion. Cuneyt Ciftci's father is among the more prominent personalities of the Turkish community in Ansbach. Acquaintances describe him as orthodox, and he was a founding member of the Ansbach Milli Gorus Mosque society. 
Cuneyit  Ciftci found his way into Islamist circles in Germany via Mosques in both Bavaria and the Baden-Wurttemberg town of Ulm where the Islamic Information Center – IIZ was operating. Cuneyit  Ciftci was recruited by Adem Yilmaz to the cause of Global Jihad.  
Due to his relation with some members of the Sauerland Cell Cuneyit  Ciftci came under suspicion. When the authorities asked him to come in for questioning in early 04/2007, he feared he would be arrested and took off with his family to Pakistan, probably through Syria and Iran following Adem Yilmaz's instruction.   
In Pakistan Cuneyit  Ciftci went through training in an Uzbek Islamic Jihad Union -IJU camp near Mir Ali in FATA region of North Waziristan. 
On 03/03/2008 Cuneyit  Ciftci blew himself up in a car bomb in Afghanistan outside a government building in the eastern Afghan Sabari district in the  province of Khost, killing two US soldiers and two Afghanis. Cuneyit  Ciftci became the first German born suicide bomber named by the media the "Bavarian Taliban". 
On 03/27/2008 the German weekly Der Spiegel obtained a farewell video of Cuneyit  Ciftci before he committed his suicide attack.

It appears that the Taliban deliberately hand-picked the Turkish youth from Germany to appear in a recruiting video. Terrorist investigators already suspect that

Cuneyit  Ciftci

was intended to be an example for a new generation of jihadis. 
* Related topics ;
11/2005 -MURIEL DEGAUQUE -THE BELGiAN JIHADIST  

05/2005 – MOHAMMED AFALAH – THE SPANISH JIHADIST  

04/2003 -TEL AVIV MIKE'S PLACE BOMBING  

 
*******************************
 Read more ;