– HUSSEIN ATRIS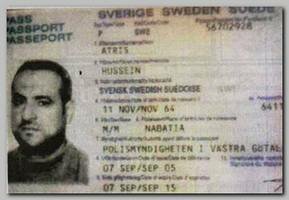 * Hussein  Atris was born in the Shiite town Nabatiya, South Lebanon, on 11/11/1964. His familly is well connected to the Hizbullah and his brother, a Germany resident Muhammad Atris, was involved in the past in the Iranian assassination of four Kurdish opposition figures in 1992 in Germany.
Muhammad Atris vent underground and was never caught by German authorities. There is an unusual similarity between Muhammad Atris and a Huzbullah operative Naim Kharis whose photo was unusually published last year, by the Israeli security service Shin Bet, which at the time identified him as in charge of recruiting Hizbullah agents worldwide in the organization's Operation-Abroad.

Hussein  Atris married a Swedish woman in 1996. The marriage made him eligible for a Swedish passport, which he allegedly exploited for the benefit of Hizbullah's international operations. According to reports by Swedish media, Husseim Atris previously owned a hair saloon in Gothenburg, before returning with his familly to Lebanon more than 10 years ago. However, a few years ago he revisited Sweden. The reason for the short return is said to be that he needed a passport.
Hussein  Atris was detained at Bangkok's Suvarnabhumi airport on 01/12/2012 before leaving Thailand on suspicion of planning to blow up Israeli targets in the country (see – Bangkoks Hezballah Plot).

Meanwhile, Thai police were looking for Hussein  Atris' accomplice, who is believed to be in his 30s or 40s. Police in Bangkok published the suspect's composite portrait, which bears great resemblance to Hezbollah operative Naim Kharis.
Iran is believed to have prepared a broad infrastructure for recruiting agents in Thailand by setting up schools, cultural and religious facilities for the benefit of the country's Muslim population. These institutions have been disseminating anti-Israeli and anti-American propaganda materials.
Iran and Hizbullah may have now chosen Thailand as the target for a terror attack against Israel, possibly to avenge the recent killings and blasts in Iran, or to take revenge for the assassination of Hizbullah's military chief Imad Mughniyah some four years ago (see – Mughniyah's Death).
*The confession of Hussein  Atris has led police, on Monday 01/16/2012, to the discovery of more than four tonnes of explosive precursor in Samut Sakhon province. Police Chief Pol Gen P
riewpan Damapong
said that 4,380kg of urea fertiliser and 10 gallons of liquid ammonia nitrate were found at a commercial building at Tambon Kalong, Mueng district, Samut Sakhon province, 36km south of Bangkok.
The Gen' said the suspect has rented the premises since January 2010 for 15,000 Baht (about RM1,500) per month, and that the explosive precursor had been stored there a long time. "However, the suspect confessed that the materials were meant to be smuggled to another country and not to be used in this country" Gen Priewpan added
.
* Related topics ;  
–
11/2011 -HIZBULLAH'S WEAPONS DEPOT EXPLODED 
11/2011 -BEIRUT CIA STATION PROBABLY "OUT OF BUISNESS"  
07/2011 -FAOUZI AYOUB ACCUSED OF BOMB MISSION IN ISRAEL  
PROFILE -ALI MUSSA DAQDUQ  
.
*****************************
Read more ;
–
YNET-NEWS
EXPRESSEN-SWEDEN
STOCKHOLMNEWS
WASHINGTONPOST