– MOHAMMED MERAH – THE TOULOUSE SHOOTER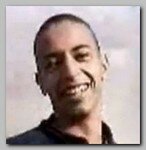 Mohammed  Merah, the man believed to be the gunman on a scooter who killed seven people in South-Western France, in 03/2012, was born, on 10/10/1988, in Toulouse, where his mother lives. in the city's Mirail district, and from a family of five children. He is a French citizen of Algerian extraction, according to French newspaper Le Figaro . The block of flats at 17 Sergent Vigne Street is inhabited by a "very mixed" population in a quiet part of Toulouse. Mohammed  Merah was described by his neighbours from the same small, four-storey block of flats where he lived as a "quiet man with a beard" who had "never done anything special".
Mohammed  Merah was a mechanic by trade, according to France's Le Point magazine. With 18 acts of violence on his record, he was considered a juvenile delinquent when growing up. The French defense ministry said Mohammed  Merah had twice tried to join the country's armed forces. The first time, in the northern city of Lille, he was turned down because of his prior convictions. The second time, in 07/2010, he attempted to sign up for the Foreign Legion in Toulouse but left during the first round of testing, the ministry said. Mohammed  Merah was known to the French authorities because he had a criminal record for non-terrorist crimes.
Mohammed  Merah reportedly became radicalised, in early 2011, while serving a brief prison sentence for a violent crime. He had described himself as an Islamist warrior and member of the Al Qaeda network. French news channel BFM TV said he was linked to Forsane Alizza (Knights of Pride), an Islamist group banned, in 02/2012, in France. (Forsane Alizz, a French late version of the British Al-Muhajiroun with a similar ideology, was founded in early 2010 by Mohammed Achamlane and, probably, numbered only few members).

The head of the French intelligence agency DCRI Bernard Squarcini said in an interview, on Friday 03/23/2012, that Mohammed  Merah was held by police in Jerusalem during his visit to Israel in 11/2010, but was released shortly after his detainment. Tthere are conflicting reports about whether Mohammed  Merah was already an Al Qaeda activist before 2010, or when he allegedly visited Israel, Turkey Iraq Jordan and Syria and ended, eventually, in Pakistan and Afghanistan. He said that French intelligence tracked him and investigated to see if he is suspicious, but found that he had not been engaging in any ideological activism or religious activity. For a short period of time, according to Bernard Squarcini in Le-Monde, Mohammed  Merah was an informant for the Internal French security service. He was assessed as innoxious but he cut all his ties with his operator in early 2012, actually fooling his handlers.  
According to French police records Mohammed  Merah visited Pakistan, the second time, in late 2011. 
He was sent back to France in 11/2011, after being picked up at a traffic stop near Kabul by Afghan police who reported his presence to NATO-ISAF international forces, the French prosecutor said. Back in France Mohammed  Merah

was questioned by intelligence officer and was very cooperative, according to the reports.

 Following the events an US intelligence official said that Mohammed  Merah was put on the US no-fly list because he'd attended an Al Qaeda training camp. 
French Police surrounded him at a block of flats in Toulouse, on Wednesday 03/21/2012 at 03:00, after the Toulouse Shootings, in which three French soldiers and a rabbi and three Jewish children were killed. According to the French authorities, he said he had sought to avenge Palestinian children and to attack the French army because of its foreign interventions.
Mohammed  Merah shot at the police through the door injuring three police officers.
[
He is armed with an AK-47, an
Uzi
i
and several handguns. He exchanged a
Colt 0.45, implicated with the
 shooting attacks, for a cellphone. During the siege he called France 24 news station.
[
The suspect's brother was also arrested. His mother was brought to the scene to help with negotiations. But she has refused to get involved due to her lack of influence on him.
French broadcaster France 24 said it had received a call from a man claiming to be the gunman. He allegedly told a journalist he had "filmed all the murders" and that the videos "would be posted online shortly". 
Paris prosecutor
Francois Molins
said the suspect told the officers surrounding his apartment that he had acted alone — and that he had intended to carry out more attacks on soldiers Wednesday. Mohammed  Merah also told police he had trained with Al Qaeda in Pakistan's Waziristan region (see – FATA ), bordering Afghanistan, Molins said. 
According to French President
Nicolas
Sarkozy
Mohammed  Merah planned to kill another French soldier in the day he was cornered in his apartment in Toulouse. 
* Mohammed  Merah has been killed in a raid by French armed police,on Thursday 03/22/2012 at about 09:00, on an apartment in the city of Toulouse, police said. Police sources told the AFP news agency the suspect had resisted police as they entered the apartment and that two officers had been wounded, one seriously, in the assault. Mohammed  Merah burst out of the bathroom

, wearing a bullet-proof vest,

as video surveillance equipment approached. He began firing with extreme ferocity. He was shot dead as he jumped out from the window in the fourth floor. The police had been instructed to take Mohammed  Merah alive. 
*
An Al Qaeda linked group 'Jund Al Khilafah' has claimed responsibility for the shootings in Toulouse, according to a statement posted on jihadist websites on Thursday 03/22/2012. 
"On … March 19th, our brother Yousef the Frenchman carried out an operation that shook the foundations of the Zionist Crusaders … and filled their hearts with terror," said the statement apparently referring to the shooting of an Israeli-French teacher and three children at a Jewish school in France. "We claim responsibility for these operations," said the statement, adding that Israel's "crimes … will not go unpunished."
The statement was pulled from some websites shortly after it was posted but remained on several other websites. According to US monitoring group SITE, Jund Al Khilafah has previously claimed attacks in Afghanistan and Kazakhstan.  
* Mohammed  Merah is the half brother of Sabri Essid . The older brother, Abdelkader Merah, 29, and his girlfriend, were arrested on Friday 03/23/2012, as suspected accomplices of Mohammed  Merah. 
*

Analysts and former intelligence officials have questioned how a young man with no steady job found enough money to buy the small arsenal of weapons, worth 10,000 Euro, that he used to battle police during the drawn-out siege. 
*
Mohammed  Merah trained with the Tehrik-e-Taleban Pakistan (TTP) in North Waziristan,"
Ahmed Marwat
, who identified himself as a spokesman for the TTP's Jandola faction, told Reuters, on Monday 03/26/2012. 
* Mohammed  Merah was buried, on Thursday 03/29/2012, at a cemetery outside Toulouse. Algeria, where his family is originally from, had refused to accept his body. 
WARNING !

– The way Mohammed  Merah chose to die will, most likely, create a wave of admiration among young radical muslims and attempts to imitate or to copycat his actions. 
* Related topics ; 
**************************