– ABDELKADER MERAH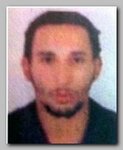 Abdelkader  Merah, born in 1983, is the half brother of Sabri Essid and the older brother of Mohammed Merah, the Toulouse Shootings perpetrators. His car was checked by the French police, following the actions of his younger brother Mohammed Merah, in 03/2012, and they have found explosives in a car Abdelkader  Merah owned, according to the public prosecutor leading the case.
Abdelkader  Merah and his sister were already known to security services for having helped smuggle Islamic fighters into Iraq in 2007 but no action was brought against him at the time. French police had in the past found that Abdulkader  Merah, and a sister, had links to a group based in southern France led by a Syrian-born Frenchman dubbed "The White Emir" by French media because of his fair hair and beard and whose real name is Olivier Corel, 65.
Abdelkader  Merah, who was also a radical Islamist, made several trips to Cairo, where he stayed in a religious school, according to the French media.
Abdelkader  Merah and his girlfriend were detained, on Friday 03/23/2012, and transferred to Paris the next day for further interrogation in the headquarters of the domestic intelligence agency. A police source quoted Abdulkader  Merah as saying he was "proud" of his brother's actions. The source said he also admitted being present when the scooter police say was used in the killings was stolen, even though he had said he knew nothing of his brother's intentions.
Police union spokesman Michel Crepin told reporters that detectives have already gathered evidence to suggest that Abdelkader may have helped his brother carry out the shootings. When asked what police had on the brother, Crepin said there was evidence to suggest that Abdelkader  Merah had "furnished means (and) worked as an accomplice."
Furthermore An email, replying to a small ad, sent to one of the murdered soldiers was traced to Abdelkader  Merah's computer.  
On Sunday 03/18/2012 evening, Abdelkader and Mohammed  Merah enjoyed a lengthy dinner together. Early the next morning, Mohammed drove a stolen scooter to the Ozar-Hatorah school and coldly assassinated a rabbi and three children. Abdelkader's mobile phone was found discarded near the school, police sources told Le Parisien newspaper.

Abdelkader  Merah has been charged, on Sunday 03/25/2012, with complicity in the attacks. 
* Related topics ; 
***************************