– JANDOLA ABDUCTED FOUNED DEAD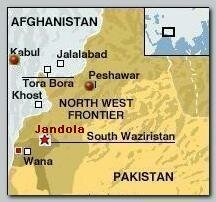 On Monday 06/23/2008, Taliban and warriors loyal to Baitullah Mehsud seized the village of Jandola in South Waziristan, FATA area.  Jandola is inhabited mainly by the Bhittani tribe considered cooperatively to the Pakistani democratic regime and an important garrison for the PAKISTANI ARMY.
After few hours of fighting, which claimed the life of nine militants and two women and two children from the Bhittani tribe, the raiders left the town taking with then about 30 hostages.
On Wednesday 06/25/2008 the bodys of 22 abducted were found by the local villagers.
The Bhittani tribe has the backing of the government forces, and has been challenging the influence of Baitullah Mehsud's fighters in the area. Bhittanis cooperated with the army against the Taliban. Recently the Bhittanis were stopping Baitullah Mehsud's vehicles passing through their territory, and insisting that even the women be checked – a taboo in the deeply conservative tribal culture.
The attack came amide cease fire talks between Baitullah Mehsud and the Pakistani regime(See – SWAT-DEAL ) and reprisal attacks are most likely to happen. 
* 12 people were killed in Jandola, on 12/08/2005, in a mysterious explosion, probably a "work accident" when they tried to assemble a bomb.
* Related topics –
–
03/2008 -16 KILLED IN A MISSILES STRIKE  
02/2008 -12 ARAB VOLUNTEERS KILLED IN PAKISTAN  
02/2008 -20 KILLED IN PAKISTAN RALLY  
********************
Read more ;