– FIGHTING BETWEEN PALESTINIANS IN LEBANON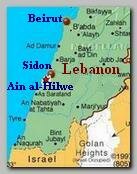 Three Palestinians have been killed after an argument between rival factions in a refugee camp in south Lebanon turned violent, a Palestinian official said on Sunday. The fighting started late on Saturday 07/19/2008, in Ain al-Hilweh camp, the largest in Lebanon, between Islamist group Jund al-Sham and a joint force of Palestinian factions which polices the camp.
According to AFP, those shot dead were Walid Sallum, an Islamist member of a committee formed to resolve differences between rival factions, a Jund al-Sham leader, Shehade Jawhar, and Abed Jawali, a member of the same group.
Shehade Jawhar, who was wanted in Lebanon for murder and who had fought in Iraq, died on Sunday 07/20/2008, from gunshot injuries, the Palestinian official told AFP. The funerals of the three men took place under heavy Lebanese army security in Taamir.
"All the parties are committed to preventing the camp from sliding into violence," the force's head, Munir Maqdah, told AFP.
* Related topics –  
–
07/2005 -QASSIOUN  SHOOTOUT 
PRFILE -AHMED SALIM MIKATI 
************************** 
–