– ISTANBUL HIT BY DOUBLE BOMBINGS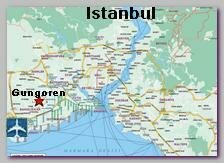 On Sunday 07/27/2008 evening, at about 22:00, a small bomb exploded in a dustbin near a telephone booth in the residential Gungoren suburb, half way between the center of Istanbul to its international airport. Few minutes later, when people gathered around, a second bomb, hidden in a dustbin 10 meters away, exploded. !6 people were killed and about 150 injured in the double explosion – almost all of them in the second blast.
Although no group took responsibility on the double bombings, terror attacks committed by Islamic militants target, generally, western and non Muslim institutions like embassies, foreign banks, churches or synagogues etc. Islamic terror attacks are committed by suicide bombers or use a large quantity of explosives, generally by using car bombs.
On Wednesday 07/09/2008 morning, 6 people were killed in Istanbul in a shooting attack on the USA consulate in Istanbul but there is nothing to suggest that there is a linkage between the two terror events.   
The double explosion bares the fingerprint of the Kurdish Worker Party, known in Turkey as the PPK, which leads the Kurdish insurgency in East Turkey. The PKK generally uses small bombs placed in dustbins and aimed against the Turkish population rather then Western interests.
* Related topics –
=
07/2008 -6 KILLED IN ISTANBOUL  ATTACK 
03/2008 -45 AL QAEDA SUSPECTS ARRESTED IN TURKEY 
*******************
Read more ;