– SOURCES: ASSAD ADVISER ASSASSINATED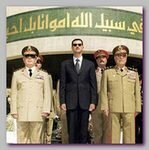 The Arabic Albawaba news site with reliable sources claimed, on Sunday 08/03/2008, that General Mohammed Suleiman, the liaison officer to Hizbullah and Iranian Intelligence apparatus, the administrative manager of the North Korean nuclear reactor that was build in Bathna and bombed by Israel on 09/06/2007 (Bathna-Bombing), the personal tutor of the President Bashar Assad in military affairs the personal and an adviser to Syrian president Bashar Assad, was assassinated on Friday 08/01/2008.
According to the sources, Mohammed Suleiman was shot dead by a sniper in the Syrian port city of Tartous where he has a villa on the shore south of the City. They added the funeral service will be held on Sunday in Suleiman's home-town of Driekesh, which is located less than 20 kilometers away from Tartous.
The sources told Albawaba the Syrian authorities have been making huge efforts to prevent the publication of the news regarding Mohammed Suleiman's killing.
Since Mughniyah's Death on 02/13/2008, the intelligence apparatus in Syria plunged to power struggle and everybody is blaming everybody in the Syrian intelligence community at least for negligence and omission if not for being, actually, an Israeli spy and a traitor.
On Friday 09/26/2008 Atomic Energy Agency Director Mohamed el-Baradei the death of the IAEA's "main interlocutor", Brig Gen Mohammed Suleiman, had made the inquiry more difficult and would delay the inquiry.
** A leaked US intelligence file made public on 07/16/2015, says that Israeli Navy special forces (known as Shaytete 13) were responsible for the killing.
* Related topics – 
–
05/2008 -STAYING WITH IRAN  
03/2008 -DIPOLMTAIC DEFEAT FOR SYRIA 
*******************
Read more ; 
–