BBC News
– AUSTRALIA ISSUED TERROR ALERT
Published
September 1, 2008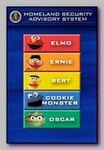 On Sunday 08/31/2008 Australia issued warning of a "high risk" of terror attacks on domestic and international flights in and to the USA, urging citizens to be vigilant while in the country.
"We advise you to exercise caution and monitor developments that might affect your safety in the United States because of the risk of terrorism," the Department of Foreign Affairs and Trade said in a travel advisory.
"The United States Department of Homeland Security's Advisory System Threat Level is at Orange for all domestic and international flights, indicating a 'high' risk of terrorist attack," an Australian official said.
** The source of the terror alert is unclear.
* Related topics ;
–
*****************
Read more ;