– SHAHBAZ HUSSAIN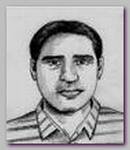 Shahbaz Hussain, 32, alias Shanu, was arrested in Lucknow, India, on 08/25/2008 as a prime suspect in the Jaipur Bombings from 05/13/2008 following the investigation of Sajid Mansuri and Mufti Abdul Bashar Kasmi, who were arrested in connection with the Ahmedabad Bombings from 07/26/2008 and were linked to the Jaipur Bombings as well.
Shahbaz Hussain is from Badoi district in Uttar-Pradesh in North India. He graduated in science from Kashi Naresh PG College, Gyanpur, in 1996, and was the district president of SIMI between 1998 and 2000. Shahbaz Hussain then studied at the Indian Institute of Mass Communication in Delhi and was a sub-editor of SIMI's magazine –'Islamic Movement'. According to the Indian police Shahbaz Hussain was disowned by his father after 2001 SIMI ban by Indian authorities.
After Shahbaz Hussain completed his degree, in early 2006, he moved to Uttar-Pradesh's state capital, Lucknow, where he worked as the manager of a computer business called Zyna Career Consultants. He is married with three children.
According to the Indian Rajasthan police Shahbaz Hussain became the local SIMI leader after the arrest of Safdar Nagori and a close aide to Mufti Abdul Bashar Kasmi. He with other suspects from Kota identified as Imran, Mehdi Hasan, Nazakat, Amanullah, Yunus, Taufeeq Qureshi and Ishaq Qureshi attended a training camp at a religious place near Kota in 12/2007 to prepare for the Jaipur bombings.
In 04/2008 Shahbaz Hussain also attended a meeting in Bhopal with Sajid Mansuri and Taukeer, in order to plan the Jaipur bombings. Police has evidence that Shahbaz Hussain himself placed some of the bombs in the Jaipur bombings.
* Related topics –
–
*******************************
Read more ;
HINDU.COM