– 6 KILLED IN MINDANAO BUS BOMBING
–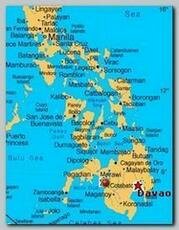 A bomb has torn apart a bus at a terminal in the southern Philippines on Monday 09/01/2008,, killing six people and wounding 27 others, police and military officials in Mindanao say.
Cesario Darantinan, a police chief in Davao del Sur province, on Mindanao, said the vehicle had been stationary when a "crude" bomb went off inside. The bomb was set off remotely
No one has claimed the attack, although suspicion might fall on the Moro Islamic Liberation Front (MILF), which has been fighting the government for independence in the south of the country. Recently the fight intensified after a initial peace agreement was rejected by the Philippine High Court (see – .MI.LF warning)
Attacks on buses have often been linked to the criminal world seeking to extort money from transport companies. Three people were killed and 25 were wounded when a crude bomb exploded inside a bus in the same town on July 24.
The owners and managers of a local bus firm operating in the area had been receiving threats after they turned down extortion attempts by a criminal gang known as "al Khobar".
* Related topics –
–
****************
Read more ;