– 2 HIZBULLAH ABDUCTION ATTEMPTS FOILED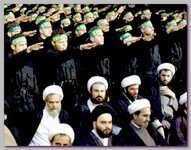 Two attempts by Hizbullah to kidnap Israeli businessmen abroad in retaliation for the last February Mughniyah's Death were recently foiled by Israeli government officials revealed on Monday 09/01/2008.
Officials refused to divulge additional information but said that the two cases underlined the gravity of the threat Israelis are currently facing overseas. The plots, officials said, were thwarted at advanced stages.
On Friday 08/29/2008, deputy Hizbullah chief Sheikh Naim Kassem said the group would retaliate and that the attack would come as a surprise for Israel.
"Revenge is a legitimate right," Kassem told the Hizbullah-affiliated Al-Manar television station during an interview. "Why is Israel allowed to murder and to assassinate and the world looks away? For everything there is a time, God willing. We won't get into details, but the Israelis will be surprised."
Two weeks ago, Israel's Counter-Terrorism Bureau issued a travel advisory urging Israeis worldwide to take precautions due to the risk of being kidnapped by Hizbullah.
While the travel advisory did not focus on a specific country, an earlier advisory had been issued for the West Africa region. Israeli security officials have traveled to various countries in Africa in recent months to personally meet with businessmen and other Israelis living there to warn them of the growing threat.
Israeli TV – Channel 2 reported that Hizbullah had cells in West Africa and South America. Hizbullah is believed to maintain a strong presence in West Africa in Shi'ite Muslim communities whose members have significant control over the import of basic commodities and the local diamond trade.
* Related topics –
–
********************
Read more ;