– ABDULLAH RAJAB ABDUL-RAHMAN
–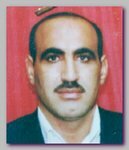 * Abdullah Muhammad Rajab Abdul-Rahman alias Ahmad Hasan Abu-Khayr is an Egyptian known also as Ibrahim Siyassa (Siyassa in Arabic – Politics) was born in Egypt on 11/03/1957.
Abdullah Muhammad Rajab was a senior member in the EGYPTIAN Jamaa Islamiya. As many other Islamic militants in Egypt, he fled the country in the mid 80s'. It is known that in the mid 90s', he fought with Arab volunteers in the Balkans. Abdullah Muhammad Rajab was sentenced in Egypt in 1998 to death in absentia for being responsible of a series of terror attacks in main Egyptian towns during the 90s'.
After Abdullah Muhammad Rajab fled Egypt he became a close assistance to Ayman Al Zawahiri and the chief of operation in Al Qaeda Abu Zubaydah. After operation Absolut Justice in Afghanistan, Abdullah Muhammad Rajab managed to flee Afghanistan to Iran, probably with other senior Al Qaeda operatives, such as Saif al-Adel, Suleiman abu Ghaith and Saad Bin Laden, one of Osama Bin Laden's sons (see – IRAN'S Interest).
In 2003, in a period of warming relations between Iran an Egypt, the Iranian authorities admitted they have arrested Abdullah Muhammad Rajab. Since then the deeds or whereabouts of Abdullah Muhammad Rajab remains unknown to Western intelligence. He is, probably, one of about 150 Al Qaeda activists who fled Afghanistan and were arrested by the Iranian authorities and is, most likely, still kept today (09/2008) in Iranian jail
On 10/03/2005 Abdullah Muhammad Rajab was designated by USA treasury department as a terror supporter and his assets were frozen (although he had no assets in USA ).
* Related topics –
–
**********************
Read more ;