– TALIBAN BAR GIRLS FROM SCHOOLS
–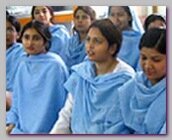 On the pattern they followed in Afghanistan, Taliban militants in Pakistan's restive North-Western Swat District valley have banned girls from attending schools, warning, on Thursday 12/25/2008, that any violators would face death.
The move comes in the wake of a terror campaign by Taliban targeting girls' schools in the region with more than 100! such schools being blown up or torched.
"You have time till January 15 to stop sending girls to schools after which we will blow up the schools," Shah Dauran, a deputy of Maulana Fazlullah, the Taliban commander in Swat, held out the ultimatum on the militants' clandestine run FM radio channel.  Girls can no longer be enrolled by government or private educational institutions, he dictated.
Shah Dauran threatened to blow up all schools that violated the ban and said schools providing education to girls would be forced to close. Any person violating the ban will face harsh action, he said.
Prior to issuing this dictum, Taliban in several towns and villages of Swat had either barred girls from attending schools or directed teachers to ensure that they came to schools in burqas.
Reports said dozens of schools have either been destroyed or closed through out Swat valley, where Pakistani forces are supposedly undertaking an operation against the militants but the fighting is going on and off in Swat Valley for years.  
* Related topics –  
–

10/2008 -RAPE  VICTIM STONED IN SOMALIA

09/2008 -MUSLIM  GIRLS RIGHTS  
03/2008 -THE CULTURAL  CONFLICT
********************
Read more ;