– 4 CANADIAN SOLDIERS KILLED IN AFGHANISTAN
–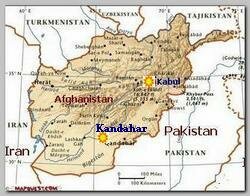 Four Canadian soldiers have been killed and eight injured in two separate blasts in the southern Afghan province of Kandahar on Friday 03/20/2009, say Canadian officials. An Afghan interpreter was also killed in one of the attacks, and a second Afghan national was injured.
Brig Gen Jonathan Vance, head of the Canadian forces in Afghanistan, said two soldiers and the interpreter died when a bomb went off near their patrol in Zhari district, west of Kandahar city. The attack also injured five Canadian soldiers and an Afghan civilian.
Later, two other soldiers died and three were wounded by a roadside bomb in Shah Wali Kot district, northwest of the city.
Canada has about 2,500 troops based in the south of Afghanistan as part of Nato's mission to fight the Taliban. The deaths bring the number of Canadian killed while serving in the conflict in Afghanistan to 116. Canada's military mandate in the country is set to end in 2011.
On Thursday 03/19/2009, the New York Times reported that the USA was planning to more than double Afghanistan's national security forces – creating a force of about 400,000 Afghan troops and police officers – in an attempt to bring stability to the country.
* Related topics – 
–
12/2008 -4 ROYAL MARINES KILLED IN AFGHANISTAN  
****************************
Read more ;