– 11 ANTI-TALIBAN KILLED IN WAZIRISTAN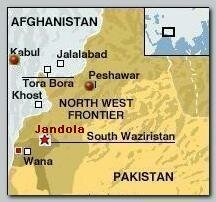 At least 11 people have been killed in a suicide-bomb attack at a restaurant in northwest Pakistan on Thursday 03/16/2009, intelligence officials said.
About two dozen people opposed to Baitullah Mehsud, the Pakistani Tehrik-e-Taleban leader, and loyal to Turkistan Bittani, a pro-government Pakistani tribal leader, were in the restaurant when the suicide bomber struck in Jandola, South Waziristan.
Meanwhile, in the adjoining region of North Waziristan, intelligence officials said four people were killed after a suspected USA drone aircraft (UAV) fired two missiles into a house outside the town of Mir Ali (see also – Mir Ali 11.22.08).
"Two missiles fired from a suspected US drone hit the compound of a local pro-militant tribal elder Malik Gulab Khan, killing four residents," a local security official told the AFP news agency.
A missile believed to have been launched by another UAV drone killed at least seven suspected pro-Taliban fighters in South Waziristan on Wednesday, intelligence officials and Taliban sources said.
Accounts from Pakistani officials, residents and fighters say around 30 attacks have killed more than 300 people in the last half year since 08/2008.
In a related development, The New York Times, citing American, Pakistani and other security officials, reported on Thursday that operatives in Pakistan's ISI military intelligence agency are aiding the Taliban's campaign in southern Afghanistan. "The support consists of money, military supplies and strategic planning guidance to Taliban commanders," the newspaper said.
"There is even evidence that ISI [Directorate for Inter-Services Intelligence] operatives meet regularly with Taliban commanders to discuss whether to intensify or scale back violence before the Afghan elections."
Hundreds of Taliban and Al Qaeda fighters sought refuge in Pakistan's FATA tribel region after operation Absolute justice in Afghanistan toppled the Taliban government in late 2001.
 * Related topics –  
–
09/2008 -U.S  ATTACKED AGAIN IN PAKISTAN  
*************N**************
Read more ;