– OVER 50 KILLED IN JAMRUD, WAZIRISTAN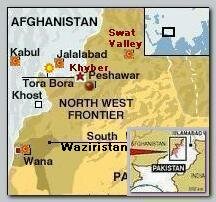 A bomb has exploded, on Friday 03/27/2009 noon, at a Mosque near the town of Jamrud in the Khyber agency in North-West FATA Region, Pakistan, killing at least 50 people, officials say.
Officials say the attack was a suicide bombing and the Mosque has collapsed. The attack occurred almost simultaneously with another suicide attack in the village of Baghiani, about 30km (20 miles) from the Afghan border, on a Shiite Mosque.  More than 70 people have been hurt in the second blast..
The Jamrud Mosque was next to a tribal police checkpoint and was crowded with about 250 worshippers, including many police.
The attack came just hours before USA President Barack Obama was due to unveil details of a new strategy to fight militants in Afghanistan and Pakistan (see – EXIT STRATEGY ).
Pakistan's security officials have recently concentrated forces in the Khyber region, and especially the Jamrud area, to fight militants attacking convoys carrying supplies for the NATO-ISAF forces in Afghanistan (see – Khyber 02.04.09).
On Thursday 03/26/2009, at least 10 people were killed in a suicide bombing in Jandola in South Waziristan.
* Related topics – 
–
03/2009 -20 BRITONS TRAINED WITH MILITANTS IN PAKISTAN 
**************-N-******************
Read more ; 
PAKISTAN LINK