– 27 KILLED IN SOUTHERN PHILIPPINES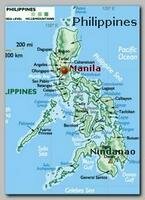 At least 27 people, including 7 soldiers, have been killed in fighting between Philippine security forces and members of the largest Muslim anti-government group, the Moro Islamic Liberation Front – MILF, in the south of the country, according to an army spokesman, on Friday 03/27/2009
The Philippine military has been fighting a faction of MILF on the island of Mindanao for the last eight months, after the group burned farms and homes in Catholic-dominated towns there.
Lieutenant-Colonel Jonathan Ponce said that soldiers killed about 20 fighters and that dozens more were wounded during an eight-hour battle on Friday near the Liguasan Marsh area. Based on our intelligence, this group was planning to attack villages so we pre-empted them," he said.
Nearly 500 people have been killed in clashes since 08/2008 last year when peace talks between the government and the MILF stalled after Manila's high court scrapped a proposed deal to cede a larger ancestral homeland for Muslims in the south.
Fighters attacked Catholic-dominated towns in Mindanao, killing dozens of civilians before government troops launched an offensive that forced peace monitors from Brunei, Libya, Japan and Malaysia to withdraw to safety.


Later, the Malaysians pulled out when the talks collapsed.
The Philippines is now trying to restart talks and has formed a new peace negotiating panel. Malaysia is expected to mediate between the government and the MILF.
The group has been fighting for self-determination for nearly 40 years. The conflict has claimed 120,000 lives and displaced two million people.
* Related topics –  
–
02/2009 -MUAWEYA MASABPI ARRESTED IN THE PHILIPPINES  
***********N************* 
Read more ;