– DR. FAISAL MOSTAFA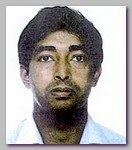 * Dr. Faisal Mostafa of Stockport, Greater Manchester in UK. was born in 1964 in Bangladesh and arrived to UK in the mid 80s'. He is a British citizen. Dr.  Faisal Mostafa has a chemistry degree and a PhD in metals corrosion.
In 1996 Dr.  Faisal Mostafa was acquitted of plotting to cause explosions after a trial at Manchester Crown Court, but was found guilty of illegally possessing a firearm and sentenced to four years in prison.
After his release from prison Dr.  Faisal Mostafa got a job as community manager at the Darul Uloom Islamic High School in Sparkbrook. While there he met Moinul Abedin, whose brother attended the school.
In 1998 Green Crescent was founded at Dr.  Faisal Mostafa's home location in Green Pastures, Heaton Mersey, Stockport.
Green Crescent is connected to Dubai-based Human Appeal International, which supposedly has links with Hamas and Iraqi insurgents. Human Appeal has a greater outreach than Green Crescent and has offices all over the world. It also claims to have set up a Madrassa in Bhola, Bangladesh.
In 2000, Dr.  Faisal Mostafa was arrested again and charged with planning to cause explosions after police discovered a large cache of explosives at a house in Birmingham. In 02/2002, Dr.  Faisal Mostafa was acquitted, again, of conspiring to build home-made explosive devices using a "terrorists' handbook" detailing bomb-making techniques. His co-accused, Moinul Abedin, was jailed for 20 years after being found guilty of planning to cause explosions around the UK.
On 07/13/2008 Dr.  Faisal Mostafa was arrested the third time in UK for possessing dangerous weapons and making a false statement about baggage cargo at Manchester airport. On 11/23/2008 Dr.  Faisal Mostafa was found guilty by a court in Manchester. A court spokeswoman told the BBC he was given a two-year suspended sentence and ordered to do 100 hours unpaid community work.
The Bangladeshi police arrested, on Wednesday 03/25/2009, in Dhaka, Dr. Faisal Mostafa, the manager of the Green Crescent as the suspect of running a militant-training camp under the guise of an orphanage on remote Bhola Island. He was detained along with his "agent", a Bangladeshi citizen (see – Bhola 03.25.09 ).
The arrest of Dr.  Faisal Mostafa came a day after Police in Bhola arrested a leading member of the Jamaat-ul-Mujahideen Bangladesh (JMB) along with three other people in a raid on Tuesday. Their interrogation led to the arrest of Dr.  Faisal Mostafa and to the exposure of the Bhola Orphanage weapons cache. 
According to British sources Dr.  Faisal Mostafa was tortured by the TFI – Taskforce For Interrogation during his investigation in Bangladesh. He spent several months in hospital after his interrogation. Dr.  Faisal Mostafa was released on bail in 02/2010 to receive treatment for renal failure. He was flown to the UK in 06/2010, with the assistance of the British High Commission, a few days after the British authorities learned that the Guardian was planning to report on his case (see also the stories of Jamil Rahman and Golam Mustafa)
* Related topics –
RANGZIEB AHMED – MANCHESTER CELL
BIRMINGHAM BEHEADING PLOT
5 TERROR SUSSPECTS ARRESTED IN BIRMINGHAM 
***************************
Read more ;