– 5 YEMEN POLICEMEN KILLED IN CLASHES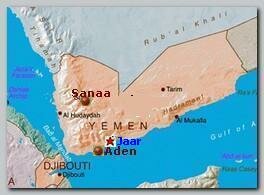 Yemeni security forces have clashed with militants linked to Osama Bin Laden's Al Qaeda network, on Saturday 03/28/2009.
Four policemen are reported to have died during an operation against the militants in Jaar, in Abyan province in the south of the country (see also – Abyan-Operation). The region is the known as the stronghold of Khaled Abdul-Nabi. Officials said the operation was launched in response to attacks by the insurgents on government forces. 10 Islamic militants, members of the Aden-Abyan Islamic Army affiliated to Al Qaeda, were arrested in the operation
Correspondents say the town is a stronghold of militants who return to Yemen after fighting abroad.
There have been a series of assaults on both government and foreign targets in Yemen, which is facing an economic and political crisis.
In another development, Yemen authorities said, on Sunday 03/29/2009, that 5 Saudi nationals wanted on terrorism and sabotage charges have been handed over to Saudi Arabia
The Yemeni Ministry of Defense said one of the five suspects it delivered to Saudi authorities, on 03/17/2009, was an alleged top leader of the Al Qaeda terrorist group, Mohammad Atiq Owaid Harbi, the Kuwait news agency KUNA reported Sunday.
Mohammad Atiq Owaid Harbi was reportedly no. 73 on a list of 83 suspected terrorists wanted in Riyadh (see – 83 Wanted List).
* Related topics  –  
03/2009 -6 AL QAEDA SUSPECTS ARRESTED IN YEMEN
03/2009 -ANOTHER ATTACK ON SOUTH KOREANS IN YEMEN
03/2009 -4 TOURISTS KILLED IN HADRAMOUT BALST  
**********************************
Read more ; 
ARMIESOFLIBERATION