– KANDAHAR POLICE COMPOUND ATTACKED
–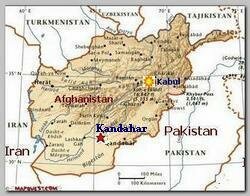 3 police and 5 civilians were killed in a suicide bomb attack on a police compound in Kandahar, Southern Afghanistan, on Monday 03/30/2009, officials say. 
The deaths came as a bomber, wearing a police uniform, detonated explosives inside Kandahar's district headquarters in Andar, AP news agency reported.  The attack occurred almost simultaneously with the Lahore Academy Attack, which was carried out too with people disguised as local policemen. 
The attack took place some 15km (10 miles) south of Kandahar city, a militant stronghold of the Taliban.  
Kandahar is one of the key battlegrounds of an ongoing rebel insurgency against the Afghan government and troops from NATO-ISAF and a USA-led coalition.
Vowing to make Afghanistan a foreign policy priority, USA President Barack Obama is sending 21,000 additional American troops to bolster 38,000 already in the country.
* Related topics –  
–
03/2009 -EXIT  STRATEGY FOR AFGHANISTAN  
*************N***************
Read more ;