– 15 ARRESTED IN SINAI FOR SMUGGELING ROCKETS
–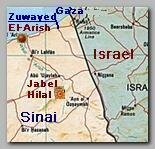 As a development in the EG Hizballah Network affair in Egypt, which was revealed, on Wednesday 04/08/2009, the Egyptian security forces arrested 15 people on Friday 04/10/2009, in Sheikh Zuwayed near the border with Gaza Strip.
The suspects were arrested over accusations they helped make rockets destined to be smuggled into the Hamas-run Gaza Strip via border tunnels, security sources said. According to Reuters, the sources said authorities had confiscated the outer shells of 60 rockets from a metal workshop in the Sinai town of Sheikh Zuwayed, near Rafah Tunnels .
Those held include the owner of the workshop and other workers and drivers who are accused of participating in a scheme to manufacture rocket parts and send them to the Palestinian enclave. The sources did not specify whom the rocket parts were intended for in Gaza.
In the meantime the leader of Lebanon's Shiite Hizbullah movement has confirmed one of the group's members is among 49 men accused of planning attacks in Egypt.  The Hezbollah member, Sami Shihab, had been trying to get military equipment into Gaza, Hassan Naserallah said. He denied his organization was seeking to destabilize Egypt or to carry out any terror attacks in Sinai and called the allegations "lies".
"We do not deny it and we are not ashamed of it."  Hassan Naserallah said defending the right of Hizbullah to smuggle weapons to Gaza.
* Related topics – 
–
01/2009 'CAST  LEAD' –  EPILOGUE 
11/2008 -25 POLICEMEN CAPTURED BY SINAI'S BEDOUINS
**************-N-**************
Read more ;