BBC News
– 5 NATO SOLDIERS KILLED IN AFGHANISTAN
–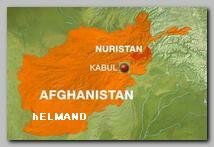 Five NATO-ISAF soldiers have been killed in an insurgent attack in eastern Afghanistan, Nato said, on Saturday 05/02/2009.
One was American and four were from NATO-ISAF. Reports suggest two of those four were Latvian.   They were killed in fighting that "included small arms fire and rocket-propelled grenade strikes", NATO-ISAF said.
A NATO-ISAF spokeswoman Brigadier-General Richard Blanchette told Reuters news agency the insurgents had attacked an outpost in Eastern Afghanistan earlier on Friday and struck an ammunition store, causing an explosion.
NATO-ISAF does not name nor release the nationality of any casualty before the relevant country involved has done so.
Latvian news agency Leta named the two Latvian soldiers killed. The other two NATO-ISAF soldiers who died are reported to have been American too.
* Related topics – 
–
04/2009 -TALIBAN EXECUTED YOUNG COUPLE IN NIMROZ  
************-N-************
Read more ; 
–
– INDIAN MOHAMMED NIZAR ARRESTED FOR TERROR »