– U.S SANCTIONED AL QAEDA AGENT SAAD AL-SHAMMARI
–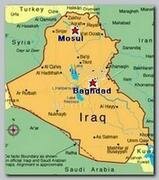 The USA has imposed, on Thursday 05/16/2009, sanctions on an Al Qaeda operative in Syria, Saad

Owaied Obaid

Al-Shammari, known also as Abu Khalaf.
Saad Al-Shammari, a relative of Naif Farhan Jalal Aljihaishi al-Shammari, a Saudi who was listed in the list of 36 most-wanted Al-Qaeda operatives in Saudi Arabia and was killed in the Dammam Shootout, in 09/2005, and of Abdullah al-Shammari, a young Saudi who participated in the Abqaiq Attack. Abdullah al-Shammari was killed, on 02/27/2006, in Riyadh the capital of Saudi Arabia.
Saad Al-Shammari has been a senior Al Qaeda agent and a facilitator of foreign fighters to Iraq. The agent, known also as Abu Khalaf, was said to have directed insurgents and funds to Iraq.
"We will continue to aggressively implement the international obligation to target Al Qaeda-linked terrorists, like Abu Khalaf, who threaten the safety of coalition forces and the stability of Iraq," a USA Treasury spokesman said.
The sanction resulted from the arrest, in Iraq, of 3 of Abu Khalaf's associates suspected of working with the Syria-based leader of Al Qaeda in Iraq (AQI) as a USA military statement said, on Saturday 05/16/2009.  
The men were arrested during joint Iraqi and US military raids on Friday and Saturday that targeted Saad Al-Shammari north of the troubled city of Mosul. "Iraqi and Coalition forces targeted a Syrian-based Al Qaeda in Iraq network operating in Iraq and other Al Qaeda Iraq (AQI) network cells," the statement added (see also – Mosul 05.02.09).
"This terrorist is believed to be responsible for facilitating the main pipeline of suicide bombers, as well as the flow of money, weapons, terrorists and other resources from Syria into Iraq," US military said.
A similar operation in Mosul city led to the arrest of a suspected insurgent believed to have ties to senior regional Qaeda leaders and knowledge of the group's activities in the area.
Earlier this month US envoys raised concerns with Damascus about Islamic fighters transiting Syria to enter Iraq. General David Petraeus, the top US commander in Iraq and Afghanistan, told Congress last month that the Al Qaeda in Iraq pipeline through Syria had been "reactivated".
The US military is particularly concerned about the area around Mosul, in the northwest near the Syrian border, which officials have described as the last bastion of Al Qaeda in Iraq.
A week ago the President Barack Obama's administration renewed sanctions against Syria for one year, accusing Damascus of supporting Mideast terrorism and undermining Iraqi stability. The recent revelations are a blow to Obama's efforts to reach out to the more radical countries in the Middle East such as Iran and Syria, named by the former Bush administration the "Axis of Evil" along with North Korea.
* Saad Al-Shammari – Abu Khalaf replaced Abu Ghadiya, who was killed in the Abu-Kamal Raid, on 10/26/2008. He was killed himself, eventually, by USA Special Forces in Mosul, on 01/22/2010 (see – Abu-Khalaf Death).
* Related topics – 
–
*************N**************
Read more ; 
MENEWSLINE