– SOMALI SECURITY MINISTER MURDERED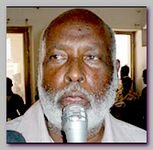 Somalia's security minister Omar Hashi Aden has been killed in a suicide bombing, on Thursday 06/18/2009, at Hotel Medina in Beledweyne, just north of the capital, Mogadishu, the country's information minister and witnesses have said.
Somalia's ambassador to South Africa and at least nine other people were also thought to have been killed in the blast, reports said.
Farhan Ali Mohamud, the information minister, announced the death of Omar Hashi Aden, the security minister, but declined to give any other details. Hashi had moved to Beledweyne at the beginning of 06/2009 with heavily-armed troops in an attempt to regain territory from fighters of the al-Shabab group.
Al-Shabab, which Washington claims has ties to Al Qaeda, has vowed to topple the Somali government led by Sheik Sharif Ahmed, the current president.
A senior al-Shabab official had warned after a deadly suicide car bomb attack on police headquarters in Mogadishu, on 05/25/2009, that there would be more suicide strikes in the near future. Beledweyne is the capital of the central Somalian region of Hiran, which is close to the border with Ethiopia.
Somalia has not had an effective government since 1991 when former Mohamed Siad Barre, the former president, was overthrown, plunging the country into chaos.
* Related topics – 
–
05/2009 -SCORES KILLED IN MOGADISHU 
04/2009 -SOMALIA APPROVED SHARIAA 
04/2009 -AL-SHABAB APPEALS TO AMERICAN MUSLIMS
**********-N-***********
Read more ;