– TALIBAN OPPONENT QARI ZAINUDDIN KILLED
–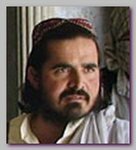 A tribal leader Qari  Zainuddin, 26, who opposed the head of the Tehrik-e-Taleban in Pakistan has been shot dead in the North-Western Pakistani town of Dera-Ismail Khan, police said.
An aide of Qari  Zainuddin, who was also wounded in the attack said a guard entered the room at Zainuddin's office after morning prayers and opened fire, on Tuesday 06/23/2009 morning.
Qari  Zainuddin often criticized Taliban head Baitullah Mehsud. Earlier this month, Qari  Zainuddin hit out at Mehsud for recent attacks on a mosque which killed 33 people (see – Upper-Dir 06.05.09).
Separately, Pakistani intelligence officials say a USA drone aircraft UAV has carried out a missile strike in South Waziristan, in an area known as a stronghold of Mehsud. Officials say that casualties are feared in the attack.
The violence comes as the Pakistani army is preparing to launch a new offensive against Taliban fighters under Mehsud's command.
Earlier this month a prominent Muslim cleric, Dr. Sarfaraz Naeemi, who was outspoken in his opposition to the Taliban was killed in a suicide blast at his seminary in Lahore.
* Related topics – 
–
06/2009 -PAKISTAN AFTER BAITULLAH  MEHSUD   
06/2009 -MEHSUD FACES OPPOSITION FROM TALIBAN
***********N************
 Read more ;