– SIDNEY LINDT CAFE HOSTAGES CRISIS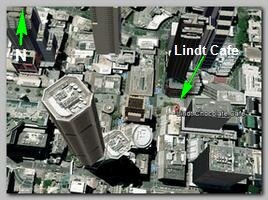 On 12/15/2014,, a lone gunman, later identified as Man Haron-Monis, held hostage ten customers and eight employees of a Lindt chocolate café located at Martin Place in the center of Sydney. The hostages, probably forced to, were seen holding an Islamic black flag, with verses in Arabic. up against the window of the café, Initially some media mistook it for the flag used by the Islamic State of Iraq and the Levant (I.S.I.S); The gunman Man Haron Monis  also demanded, unsuccessfully, to speak to the Australian Prime Minister, Tony Abbott, live on radio.
Australian Police treated the event as a terrorist attack, and negotiated with Monis throughout the day.
After a 16-hour standoff, during which areas of the Sydney central business district surrounding the site were cordoned off and nearby buildings locked down, police officers from the Tactical Operations Unit stormed the café upon hearing gunshots from inside. At least one hostage was shot by Monis, who himself was shot dead after police entered in response. Hostages Katrina Dawson and Tori Johnson died, while three other hostages and a police officer were injured during the police raid.
In the aftermath, Muslim groups issued a joint statement in which they condemned the incident, and memorial services were held in the city at the nearby St Mary's Cathedral and St James' Church.
Related topics:
09/2014 – AUSTRALIAN NUMAN HAIDER SHOT DEAD BY POLICE  
09/2014 – AUSTRALIA ARRESTED 15 I.S.I.S FOLLOWERS  
08/2012 – ROGUE AFGHAN SOLDIER KILLED 3 AUSTRALIAN TROOPS  
02/2010 – 5 SYDNEY TERRORISTS SENTENCED TO LONG JAIL TERMS
************************
Read more ;
Wikipedia -Sydnet Hostage Crisis