– MAN HARON MONIS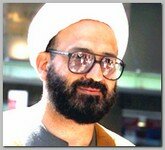 * Man Haron Monis  was born as a Shiite in Iran 0n 05/19/1964.  He published a book of poetry, Inside and Out or Daroon and Boroon inearly 1996 in Iran. He fled Iran to Malaysia and them to Australia  had sought political asylum in Australia in 1996,which was granted in 2001.
 In 11/2000, Man Haron Monis chained himself to a pole at Parliament House, Sydney, and went on a one-day hunger strike to draw attention to his cause.
 In 2001, using the name Ayatollah Manteghi Boroujerdi,  Man Haron Monis claimed in an interview with ABC Radio National's The Religion Report that he had been involved with the Iranian ministry of intelligence and security, and that his criticism of the regime and secret information he possessed had resulted in his persecution as well as the detention of his wife and children. He claimed that his request for asylum followed the detention of his wife and children by Iranian authorities after he espoused liberal views on
 According to London-based Persian TV channel Manoto 1, Man Haron Monis had fled Iran after taking US$200,000 of his customers' money in his tourism agency. The chief of the Iranian police, Esmaeil Ahmadi-Moghaddam, stated that Man Haron Monis fled the country to Malaysia and then Australia, having "a dark and long history of violent crime and fraud.
 Man Haron Monis was under prosecution by INTERPOL and Iranian police at the time he was granted asylum in 2001, and Australian police did not extradite him back to Iran despite several requests since Australia has no extradition treaty with Iran.
 In late 2007 Man Haron Monis proclaimed himself to be a Muslim cleric, Australian Federation of Islamic Councils head Ikebal Patel said no Islamic community leaders knew anything about Monis and believed he "could be a fake deliberately stirring up anti-Islamic sentiment".
On 01/28/2008, Australia's senior Shia leader and head of Supreme Islamic Shia Council of Australia, Kamal Mousselmani, told The Australian that Monis "was not a genuine Shia spiritual leader" and "there are no ayatollahs in Australia." He urged Federal government officials to investigate his identity. "From the way he writes his fatwas (or religious edicts), I don't think he is Shia Muslim", he added.
 In 2009, in Granville, New South Wales – NSW, Man Haron Monis gave a lecture calling for an Islamic society and taunting foreign governments saying, "your intelligence service is not working properly.It has been reported that Man Haron Monis was radicalised by members of the Sunni Hizb ut-Tahrir.
 Man Haron Monis, together with a colleague, Amirah Droudis, undertook a campaign protesting against the presence of Australian troops in Afghanistan, by writing letters to the families of soldiers killed there, in which he called the soldiers murderers, and urged the soldiers' families to petition the government to remove its troops from Afghanistan. According to justice Heydon of the High Court, the letters compared "the (deceased soldier) son to a pig and to a dirty animal. It calls the son's body 'contaminated'. It refers to it as 'the dirty body of a pig'. It describes Hitler as not inferior to the son in moral merit".[39] Monis was arrested on charges of "using a postal or similar service to menace, harass or cause offence".
 Man Haron Monis had been on the Australian watch-list in 2008 and 2009, but was dropped off the list for unknown reasons.
 On 11/10/2009, Man Haron Monis appeared in court and claimed through his lawyers to be a peace activist. He later chained himself to the courthouse in protest over the charges. Monis was subsequently barred by the courts from expanding his protest to include letters to UK soldiers' families.
 In 07/2011, Monis was charged at a St Mary's police station for intimidation of his ex-wife, Noleen Hayson Pal, following a confrontation in a McDonald's car park in Green Valley. On 04/21/2013, Pal's body was found stabbed 17 times and alight in a Werrington apartment stairwell. Monis' girlfriend Amirah Droudis was formally charged with Pal's murder, and on 11/15/2013, Man Haron Monis was charged by NSW Police with being an accessory before and after the fact to the murder of Pal. On 12/12/2013 Monis and Amirah were granted bail.
 In 12/2011, Man Haron Monis appeared before the Court of Criminal Appeal in Sydney arguing that the charges against him were invalid because they infringed on his implied constitutional freedom of political communication, but the three-judge panel unanimously dismissed his case.
Upon further appeal to the High Court of Australia, the six-judge panel split 3–3 over the issue.] Although the High Court of Australia normally comprises seven judges, one seat was vacant and as yet unfilled at the time Monis's case appeared before the court. Failing to achieve a majority vote in Monis's favour, the lower court's unanimous decision was left to stand.
 On 01/22/014, Man Haron Monis appeared at Parramatta Local Court and, after informing magistrate Joan Baptie that he was representing himself, began discussing documents that he claimed were held by ASIO. He also claimed that ASIO was "conspiring against him" as they wanted him jailed. Magistrate Baptie told Monis that she had no power to order the release of documents held by ASIO and "advised him to stop talking because he would harm his defence". Monis staged a protest outside the court, following the adjournment of the case, "wearing chains and holding a sign claiming he has been tortured in custody". He was quoted as saying: "This is not a criminal case. This is a political case.
 On 03/14/2014, Man Haron Monis was arrested and charged with sexually and indecently assaulting a young woman who went to his consultancy in Wentworthville, New South Wales, for "spiritual healing", after seeing an advertisement in a local newspaper. Monis claimed he was an expert in "astrology, numerology, meditation and black magic" services. Seven months later, on 10/13/2014, a further 40 charges were added, including 22 counts of aggravated sexual assault and 14 counts of aggravated indecent assault, allegedly committed against six more women who had visited his business.
 A week before the Sidney Siege, on 12/08/2014,  Man Haron Monis claimed to have converted from Shia Islam to Sunni Islam. Monis also used his website to pledge allegiance to Abu Bakr al-Baghdadi, leader of the Islamic State – ISIS – whose 'main enemies' are the Shiaa faith.
 On 12/12/2014, three days before the Sidney Lindt Cafe Siege, Monis' appeal against his conviction for criminal use of the postal service was rejected by the High Court of Australia. Three days later Monis pleaded guilty and was sentenced to probation and 300 hours of community service and banned from using the Australian postal service.
 On 12/15/2014 morning Man Haron Monis carried out the Sidney Siege in which he was killed by police 16 hours later.
Related Topics;
09/2014 – Australian Numan Haider shot dead by police 
09/2014 – Australia arrested 15 ISIS followers 
02/2011 – Terror threat against Australian airports 
02/2010 – 5 Sydney Terrorists sentenced to jail terms  
****************************



Read more;