– POLICE CLASHES WITH ARMY IN AFGHANISTAN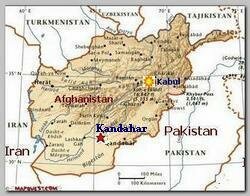 The provincial police chief and at least eight other police have been killed in a clash with USA-trained Afghan guards in Kandahar, on Monday 06/29/2009, reports say.
The clash is said to have erupted after the guards, who are employed by US Special Forces, tried to remove an Afghan prisoner from a civic building. The guards tried to free one of their colleagues who was being kept prisoner at the prosecutor's office in Kandahar City. What began as a fist fight with police turned soon into a gun battle.
Kandahar province is a Taliban stronghold, but there is no suggestion Taliban was involved.
Ahmad Wali Karzai, head of Kandahar's provincial council and a brother of Afghan President Hamid Karzai (see also – Karzai 05.18.09), confirmed the incident. President Karzai's brother, said the Afghan security forces  –  we believe it was the special forces under the control of the Americans in Kandahar  – were stopped by the police and their vehicle taken. "We do not know why that happened but they demanded their vehicle to be returned by the police" he explained.
"The police chief for Kandahar, the head of the city's criminal department and seven other police were killed in the clash," he told Reuters news agency.
41 of the special guards were later arrested and transferred to Kabul for initial investigation and trial in order to avoid vendetta and further bloodshed.
* Related topics – 
–
01/2009 -THE AFGHAN FAILING  STATE
****************N******************
Read more ;