– 3 MILITANTS ARRESTED IN MALAYSIA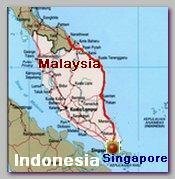 Malaysian police have detained three terror suspects under a tough security law for allegedly trying to revive the INDONESIAN JI here, a report said Friday 07/03/2009.
The trio, aged between 43 and 53, are believed to have met with Singaporean militant Mas Selamat Kastari, who was captured in Malaysia's south in 04/2009 after escaping from detention in Singapore, the Star newspaper said. The arrest is, probably, related to the arrest of another 2 suspects in Indonesia, on 06/26/2009 (see – Ismail and Subari).
 "I confirm the arrests, but I cannot reveal anything further," police chief Musa Hassan told AFP. "They are arrested under the preventive laws."
 The news report said the three men, believed to be ordinary INDONESIAN JI members, were picked up by police last week in southern Johor state after months of investigation.
It said an investigation was under way into whether they recruited any more members in recent months.
Rights groups condemned the arrests, made under the Internal Security Act (ISA), which allows for indefinite detention without trial.
Prior to the latest arrests, the Home Ministry said in parliament last week that there are 12 people being held under the ISA for alleged militant activities and falsifying documents. Half of them are foreigners. The 12 were among 100 people who have been detained under the security law since 2004, according to the ministry. (AFP)
.
* Related topics – 
–
05/2009 -$2.5 MIL' FOR FILIPINO  TERROR SUSPECTS 
10/2008 -PLOT TO BLOW UP INDONESIAN FUEL SEPOT FOILED
.
************-N-*************
Read more ;
–